She is considered an industry leader in the Banking and Finance sector – a Banking Visionary – commanding an illustrious four-decade-long career which boasts of innumerable honours and awards, as also unmatched expertise and leadership. Homai Daruwalla, Chairperson of The Zoroastrian Co-operative Bank Ltd., shares her take with Parsi Times about how the Community needs to come together and support community-based Zoroastrian institutions to keep alive the glory of our great community.
.
Homai Daruwalla heads the sole Community Bank of our Community – The Zoroastrian Co-operative Bank Ltd., as its trailblazing Chairperson. She has been the former Chairperson and Managing Director of Central Bank Of India. Born in Bombay to Rati and Ardeshir Daruwalla, as the eldest of three siblings, Homai Daruwala schooled at JB Vachha Wadia School, pursuing the Commerce stream from Poddar College and completed her Articleship from the prestigious Kalyaniwala and Mistry Associates. Being extremely career oriented, she has dedicated the larger part of her life to her work and has made a tremendous difference in the turnaround of organisations she graced with her business acumen and professional sincerity.
She rides the pinnacle of her vast, laudable Banking career with the enriching experience of sharing her expertise across three large Public Sector Banks – Union Bank of India, Oriental Bank of Commerce and Central Bank of India. She is the second woman professional banker and the first woman from our Zoroastrian community who has summited the topmost positions in PSU Banks in the country, based purely on the strength of her work ethics. A qualified Chartered Accountant, she has been at the helm of affairs at Central Bank of India as its Chairperson and Managing Director, overseeing entire operations of the Bank
She took over Zoroastrian Bank in April, 2016 as Chairperson of the Board of Directors, with the hope of consolidating and rejuvenating, in her words, "this important Parsi Legacy of ours." Making Zoroastrian Bank a bank to reckon with, has always topped her to-do list. "This is as much my responsibility as it is that of our community members'. Everywhere we look around, all community members come together to support their own institutions and so is the case with their respective Banks. Unfortunately, I haven't witnessed the same kind of enthused patronage from our community. We must come together and support this institution, which is a legacy of our great Parsi forefathers and we must ensure its growth to restore this grand Bank to its erstwhile glory. Greatness is our legacy – don't let it die!" says dynamic Homai Daruwalla, whose vibrant demeanour and dynamic outlook is known to fetch positive changes in her organisation as well as her employees.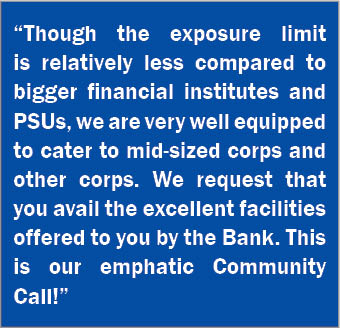 She commenced her banking career with Union Bank of India in 1975, handling eclectic assignments with great dexterity, earning successive promotions culminating as the General Manager. Prior to taking over the reins of Central Bank of India, she was the Executive Director at Oriental Bank of Commerce, where she was instrumental in expediting the integration of the erstwhile Global Trust Bank Ltd. Her comprehensive proficiencies include portfolios handling Corporate Governance, Banking Technology Solutions, Audit, Risk Management, Asset Liability Management, Customer Service, Premises and Property, Computerization including Core Banking, etc.
Making a strong Community Call for Zoroastrian Bank, which has eleven branches across Mumbai, she laments the lack of Community interest in the various products and services offered by the bank, which is always willing to go the extra mile to provide complete customer satisfaction. "We have a higher level of exposure limit and are in a position to provide our patrons some of the best banking offers available today in terms of account facilities, personal loans, education loans, home loans, etc. Importantly, we understand and respect our customers' time and hence get things executed within a 2-week timeframe, assuming the requisites have been complied with."
Even technological upgradation in the Bank has received greater thrust under her leadership, making the techno-initiatives offered at par with other peer group banks. In fact, she brought about a total turnaround in the Bank's fortune with an overwhelming response to its Initial Public Offer which created Banking history by being over-subscribed 62 times over!
Other products/services offered by Zoroastrian Bank include NRE Deposits at attractive rates facilitating quick processing, with simple and easy documentation; Simple KYC procedures for loans with an overdraft up to 90% of Book Value; Quick and easy Current, Savings and FD accounts management; Net Banking; excellent rates offered for Home Loans, Car Loans and Education Loans with quick processing and easy documentation – in fact in keeping with the current academic season, Education Loans are being offered upto Rs. 20 lakhs for pursuing international studies and Rs. 10 lakhs for domestic studies.
Sharing her personal and professional philosophy, she shares, "I believe there's no substitute for hard work. You must have courage of conviction in all that you do and must never take things or people for granted. As an employee, you must imbibe a sense of belonging with your organisation – do not bifurcate and treat it as different entities. Take professional ownership and ask yourself, what would you do if you were the owner. For success in all areas of life, do away with the 'me, myself and I' agenda and replace it with the 'we, us and ourselves' attitude. Never let power go to your head. Learn to distinguish right from wrong, and light from dark."
Having won innumerable awards and accolades through her industrious career, the more recent one being the 'Parsi Ratna', Homai Daruwala continues sharing her expertise as an Executive Advisor / Consultant in the Financial sector and is presently on the Board of the many prestigious companies as an Independent Director.
Latest posts by PT Reporter
(see all)