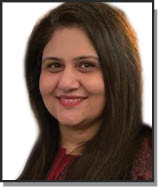 Of Lockdowns, Legends Lost
And Lessons Learnt…
.
Dear Readers,
If the current period makes our nation stand out for undergoing the biggest lockdown in world history, then this particular week will stand out as much in India, for having lost two of our most talented, legendary actors, in awfully quick succession – within just twenty-four hours of one's passing. A shocking and devastating blow indeed, to Bollywood, Indian and World Cinema to lose these powerhouses of talent – the irreplaceable Irrfan Khan and the charismatic Rishi Kapoor – way before their time.
Many amongst us have our childhood and youth connected with Rishi Kapoor's superhit films – his songs on everyone's lips (Om-shanti-om; Dard-e-dil; Mein shayar to nahi… to name a few) and his dance-moves making the ladies swoon – as we entered adulthood, in the pre-internet era. And, hardly a soul exists that hasn't been mesmerised by Irrfan's magical screen presence or wowed by his brilliant performances. Both leave behind indelible legacies and memories, that billions across India and the world over, will cherish just as much as we will miss them.
Each passing week reinforces the extraordinariness of these times. Like the saying goes, 'We are in the same storm, but not in the same boat.' How we react to the storm, how we steer our boat, will define our experience of it. And our experiences are uniquely ours, as will be the lessons learnt from it. They say those who fail to learn from history are condemned to repeat it. As all of us wait with bated breath for these uncertain times to pass, I'm sure we can ill-afford its repetition! The question is, are we willing to learn?
I believe the universe is a very logical place, and it's always communicating with us through different means – people, places, proceedings, perceptions, pandemics… we need to truly listen, not just hear; and truly see, not just gloss. Maybe that's where the learning lies. In fact, perhaps, that's where the key to the lockdown, and the prevention of such Pandemics, lies too.
As Zoroastrians, we love and live our lives to the fullest; we play the best hand with the cards destiny has dealt us. Insomuch, let us use this time, afforded to us by the yet-again extended lockdown, to reflect within ourselves and truly connect with the universe, so we may receive and learn from its wisdom, be mentally liberated despite the lockdown, and work towards creating a legendary legacy of our own.
Have a good and safe weekend!
– Anahita
anahita@parsi-times.com
Latest posts by PT Reporter
(see all)