Goodbye, Ruby Patel
12th May, 2020 marked the sad passing of our community's foremost, veteran stage actor – Ruby Patel, a name synonymous with quality Parsi-Gujarati-English theatre and extraordinary talent. The noted theatre personality passed away in Mumbai, at the age of 86. Her passing adds immeasurably to the loss of brilliant Indian acting talents, within a quick spate of two weeks, with the demises of theatre veteran – Bomi Kapadia, and film actors – Irrfan Khan and Rishi Kapoor.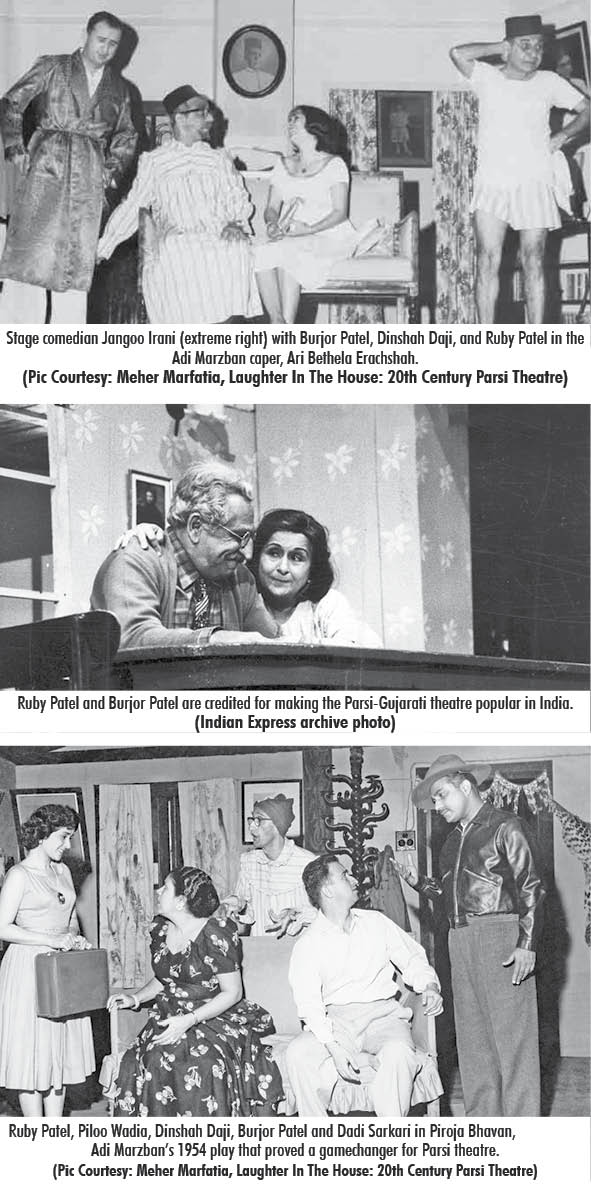 Ruby, and her husband, also incredibly talented theatre actor and exemplary writer, Burjor Patel, may well be regarded as the 'first couple' of English-Gujarati theatre, having acted together in numerous plays, especially comedies, since the '60s. They gained immense popularity for their performances in plays by the famous Adi Marzban, who taught Ruby how to project her voice on stage. Ruby and Burjor Patel were an integral part of the Indian National Theatre's Parsi wing, fronting some of the most popular productions, including 'Gher Ghungro Ne Ghotalo', 'Tirangi Tehmul', 'Hello Inspector' and 'Oogi Dahpun Ni Dadh'.
In the 1970s, the dynamic thespians, who shared a fabulous 61-year-old partnership, set up 'Burjor Patel Productions'. Later they moved to Dubai and returned to India after two decades, in 2009. In 2012, Ruby and Burjor Patel were jointly recognized with a Lifetime Achievement Award by the Thespo Theatre Group. 
Ruby Patel was initiated into the world of theatre when she was still in school, when her teacher, impressed with her performance in a drama competition sounded off Adi Marzban of her potential powerhouse of acting talent. Theatre director Sam Kerawala accompanied Adi Marzban to see her perform and were convinced of her potential. But had to convince her father to allow here to work and he agreed on the condition that he would personally chaperone her to the theatre and back home, which was on Princess Street. Ruby, still in her late teens, was then hired as Adi Marzban's secretary, and gained much knowledge here
.
.
.
Speaking to Parsi Times, Parsi theatre's leading actor, Bomi Dotiwala said, "I would call her the 'Parsi Amir Khan' – she was a complete perfectionist. A ruby in the real sense. She would often get a bit nervous when it came to delivering her performance – it was a tendency that resulted out of her staunch perfectionist inclinations! She was a very warm and loving lady and a beautiful woman – inside out. It was a pleasure working with her – she was very dedicated. I remember doing a number of plays with her by Adi Marzban – 'Jaldi Kar, Koi Joi Jase'; 'Ardhi Raat e Aafat'; 'Mancherji Konna?'; and of course, one of the most popular ones of them all was our Variety Entertainment Show – 'Laughter In The House', where we sang a hilarious Qawwali together. She was one of the best leading ladies of Parsi theatre – there won't be another like her or like my Dolly." 
Author and columnist, Meher Marfatia shares with Parsi Times, "Ruby was a quiet observer who gently made suggestions. She thought I should wrap up research on 'Laughter in the House', my book on Parsi theatre, at just the right time. I was desperately adding more and more interviews with old stars, fretting how I'd close the book representing them all well enough, while doing the job of publisher too (it was the first title from my imprint 49/50 Books). Even as she showed me the wisdom of cutting off from work like this in a balanced way, the great Dadi Sarkari, one of her popular co-stars, breathed his last after lunch at the Elphinstone Club. That did it. I quickly closed the book. If not, then after its 2011 release we may have lost the joy of collaborating with our sparkling veteran actors over the next six years on two house-full seasons of the Laughter in the House stage productions. I'm really grateful to Ruby for her advice."
Ruby Patel's co-star in 'Laughter in the House, Part 2', Jasmin Siganporia, shared, "She was my inspiration and guardian angel. Every moment spent with her was like digging a diamond from the mines. A truly brilliant actor, she has left behind a radiance in my life on stage. Ruby was really the emerald of the acting industry."
A host of leading actors took to social media platforms expressing grief over the passing of Ruby Patel. Film and theatre actor, Paresh Rawal, tweeted his condolences, "One of my favourite actresses of Gujarati and Parsi Theatre RUBY PATEL (Ruby Aunty)…. An accomplished performer and a refined person. I was fortunate to have worked with her in '80. RIP." 
Actor-filmmaker Vivek Vaswani tweeted shortly after the news of her passing away, "And it goes on, just after the news of Bomi's sad demise, another theatre stalwart! Ruby & Hosi were like the Dharmendra and Hema of the English theatre. 15 consecutive hits together…"
Ruby Patel leaves behind an unmatched theatre legacy for her equally renowned theatre actor and charismatic husband – Burjor Patel and their children – Marzban, Shernaz and Feeroza. Walking in her parents' shoes, daughter Shernaz Patel, is a popular, much admired, critically hailed, versatile actor in the theatre circuit and the Indian entertainment industry. Apart from her stints on stage, television shows and web series, Shernaz has wowed us all with her brilliant performances in numerous Hindi films, including 'Black'; 'Guzaarish' and 'Rockstar'.
The community stands by Ruby's family in this moment of grief. As we bid adieu to our much-loved and most precious gem of Parsi theatre – Ruby, may her soul attain Garothman Behest and may Ahura Mazda keep her in everlasting peace, as she lights up another universe with her eternal sparkle; and may He grant her family the strength to cope with this sad loss. 
Latest posts by PT Reporter
(see all)