Established in 2018 and brilliantly spearheaded by dynamic Trustees Freyaz Shroff (Founder), Dinshaw Tamboly, Rashna Cooper and Ami Mediretta, 'Pehchaan' – an initiative of the KurNiv Foundation – has come a long way in supporting and promoting the education and overall wellbeing of children from the underprivileged strata of society. Team 'Pehchaan', comprising young and dynamic go-getters, has been successfully furthering the cause ever since, and has played a great role, especially during the challenging Lockdown period brought on by the Pandemic. 
According to the spirited 'Team Pehchaan', "While so many frown and worry about our business turnovers, there's a section of our society whose problems are much larger to comprehend as they struggle to get even one meal together for their family. There are families with young students, living in our slums who are dealing with unimaginable circumstances. They are unable to continue their education online due to poor connectivity, lack of WiFi or instruments or just inability to afford data connections. Talk of online examinations or even research projects as a replacement for finals have induced much fear of losing out on their degree. Many of their parents have lost their jobs or incomes; many of their parents work at our homes or offices as maids, drivers, peons or watchmen. While we enjoy the luxury of working from home, the fear of spreading the virus halts their work and earnings altogether. It has never been more important to support and uplift this section of our society."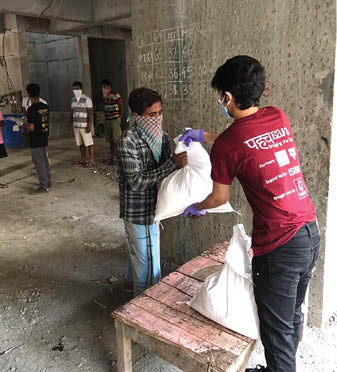 Adopting a no-blame attitude and stepping-into-the-solution, Team Pehchaan's campaign was led by youth between the ages of 15-21, with the support of its trustees. With the nation under lockdown, the Pehchaan Team realised many peers in the slums were left without groceries and launched a Youth for Youth Food Distribution Drive. Over the last 8 weeks, they have served over 400 families across 6 slums in Mumbai. Drives have been conducted by the Pehchaan Changemakers in Bandra, Mahim, Worli, Lower Parel, Colaba and Cuffe Parade, providing many with the hope that help will come to those who need it. 
As Team Pehchaan works tirelessly to bridge the inequitable education gap during this lockdown to level up all those involved with the program, they urge you to join hands and lend you support to them – every step, big or small, in the right direction, will make a difference! 
To step into the solution with 'Pehchaan' and contribute towards this noble cause, and for other queries, Contact: +91 9892273973 
"The wide gap between cultural mentality and society's mindset has to be bridged if our country is to progress and become a world leader. Every effort, whether big or small helps and I am proud and delighted that KurNiv Foundation through its 'Pehchaan' programme is admirably going about bridging this vital gap in their own unique and effective way." – Dinshaw Tamboly, KurNiv Trustee
otw_shortcode_info_box border_style="bordered" css_class="boxed"]"It has taken years of grit and hard work for low income families to crawl out of the poverty trap. The unfortunate events of the last few months have turned back the clock for many of these families. At Pehchaan, we have tried, in a small way, to engage with students living in slums, to sustain them and their families, and to help them realise their hopes and aspirations." – Rashna Cooper, KurNiv Trustee [/otw_shortcode_info_box]
otw_shortcode_info_box border_style="bordered" css_class="boxed"]"Let it not be the loss of a privilege that makes you understand its value, for by then it may be too late. Feel it today. Be grateful today. Share the blessing with those less privileged today! At Pehchaan, we believe not only is it time to understand this gap in privilege, but also time to create an equitable platform on which all are afforded equal opportunities to grow and succeed!" – Freyaz Shroff, KurNiv Founder Trustee [/otw_shortcode_info_box]
Latest posts by PT Reporter
(see all)