Team Salsette Welfare Association (SWA) organised the first ever All-Parsis Table Tennis League on 15th and 16th October, 2022, at the Salsette Parsi Colony Community Hall.
The build-up to the event, which started over three months ago, was very promising with the eight teams being selected in an auction by their respective team owners. This was followed by rigorous team practice sessions by most teams – something which has never been done before or was happening in silos. This itself ensured the success of the tournament even before the first serve!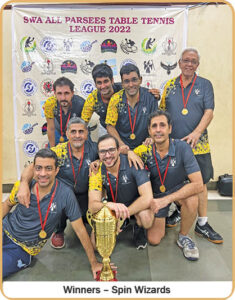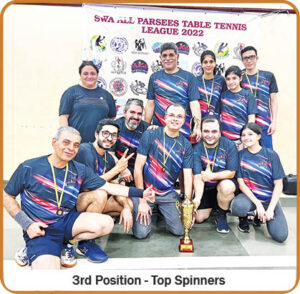 The two days had a spectacular beginning with an exciting opening ceremony, where all the teams paraded inside the hall on cue upon their theme songs and were given a grand welcome. The adrenaline had already started pumping – this was evident with the loud cheering that the teams got every time they won a point from the first match played.
The 8 teams were divided into 2 groups of 4 teams each. Every team had to play a TIE with the other teams of the group and 1 Cross Tie, with a team from the other group. In a TIE, there were 5 matches comprising 3 doubles and 2 Singles and each match comprised 5 games.
Since the format was that you won a point with every game or set won, 25 points were at stake in every TIE. Thus, no player took it easy even if down 0 – 4 or 4 – 0 up in the match as the crucial last point was yet to be won. That ensured that every game was played in the right competitive spirit.
Though the Team – Spin Wizards – started with a 20 point disadvantage at the beginning of the league, (due to exceeding their auction purse), they still reigned as the hot favourites to win the coveted title. In fact, even the contest poll launched before the league had predicted this. And rightly so, they lived up to the expectations, as they qualified for the knock-outs despite the handicap. There was just no stopping them then, despite their own jittery moments against all their opponents.
The League was graced by the presence of Dr. Ashish Contractor and Xerxes Dastur who made time to witness the grand spectacle.
Team SWA thanks the Trustees of Salsette Parsee Colony, Associate Sponsors of the League – Khareghat Colony Youth Association Trust Funds, all its other sponsors, well-wishers and volunteers who strove hard in executing a flawless league. Every participant was extremely appreciative of the different format of the League as there was something for everyone involved.
Latest posts by PT Reporter
(see all)