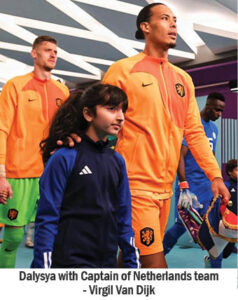 Doha resident, 9-year-old Dalysya Avari, recently had the honour of escorting the captain of Netherland team – Virgil Van Dijk – during their match against Senegal at the FIFA Football World Cup, 2022, held in Qatar. Dalysya, who is a student at Park House English School, along with her fellow-student and elder sister – Kianne Avari (age 13) shared the honour of being the Flag-Bearers during tournaments.
Dalysya was a player escort for Virgil Van Dijk, the Netherlands team captain, who also plays as a centre-back for Premier League club, Liverpool. Along with other children, Dalysya escorted the Netherlands team to the football pitch at the Thumama Stadium. Kianne was the flag bearer and held the Netherlands flag along with five other students, which is the standard practice before any football game.
The sisters participated based on an email received by parents from their school, in August 2022, asking if they would be interested to send the children as a part of the 40-children-group to one of the FIFA games. There was much excitement about this once-in-a-lifetime opportunity for the children. Van Dijk spoke with Dalysya just before heading out on the field, asking her about her favorite food. Kianne was jumping with joy as all the players who passed by said hellos and gave fist bumps and high fives!
The daughters of proud parents, Zerxes and Parizad Avari, and granddaughters of Noshir K Avari, who shared the news with PT – Dalysya and Kianne play football at school as part of their PE curriculum. While Dalysya is in year 5, Kianne is in year 8, at school. They enjoy gymnastics and train in badminton. Dalysya enjoys music and anything to do with sports. Kianne is passionate about volleyball, reading, doodling and drawing and is also the illustrator for the school press team.
Latest posts by PT Reporter
(see all)