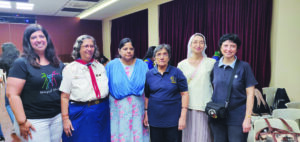 On 16th September, 2023, The Alexandra Girls' English Institution were proud hosts to the day-long centennial celebrations of the '14 A East Bombay Guide Company', which was established in 1924, (marking the 61st anniversary of the school), when the then visionary Directors decided to inculcate the Girl Guide Movement, which had become popular as an educational medium for inducing alertness, moral discipline, hygiene and physical development for girls in Indian society.
The festivities kicked off with flag hoisting followed by the inaugural ceremony. Ruby Pavri, ex-student, President Guide and present Director, reminisced her days as a young enthusiastic guide. Perviz Hilloo also shared her 44-year long association as ex-President guide, followed by a short speech by Khorshed Titina, President guide and current Captain. A short video showing Alexandra's journey through the years of the Girl Guiding movement had the audience enthralled. Yasmin Kavina, Principal, shared, "Girl guiding is not just about badges and uniforms; knots and yells. It's about building lifelong friendships, discovering your inner strength and becoming empowered young women who can make a positive impact on the world. In Girl Guiding, you learn valuable life skills, and develop leadership qualities and most importantly grow into confident individuals who can shape a brighter future."
The event was attended by dignitaries including Shernaz Archarya, District Commissioner (Guides), Dr. Pervin Anklesaria (Captain – 14th A), Mackie Majra – Asst. District Commissioner (Guides), Ruzbeh Contractor (Flock Leader), Dilshad Behramkamdin (President guide), and many other ex-guiders and President guides. Post lunch there was a felicitation and prize distribution ceremony where individual and collective prizes were declared, with the over-all company prize and trophy awarded to 68th Talati's East Bombay Guide Company.
The 14 A East Bombay Guide Company was officially registered on July 6, 1927 at British Headquarters, London and the Registration Certificate bears the signature of the Founder of the Boy Scout Movement, Lord Robert Baden Powell. Over the years, it has had the honour of training 53 President Guides who have been awarded the highest honor – the President Guide's Badge from the President of India.
The 14 A East Bombay Guide Company has sent guides to participate at National Jamborees where they have excelled in all categories, thanks to the training imparted by senior most Guide Captain, Dr. Pervin Anklesaria who has completed 60 years of honorary service to the school. The centennial celebrations were a great success, proving the flourishing spirit of the youth. Here's looking to the further empowerment of young girls to grow into accomplished and responsible citizens.
Latest posts by PT Reporter
(see all)