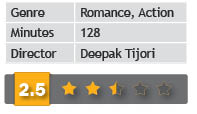 Movies starring relentless and ruthless martial arts artists do not necessarily translate into riveting films. In his seventh outing as director, Deepak Tijori makes an honest effort at adapting the successful 2011 Korean 'Always', but sadly lets the script fall prey to the dictates of Bollywood.
A fortuitous meeting between a visually impaired Jenny Mathias (Kajal Aggarwal) and Sooraj (Randeep Hooda), an ex-martial arts champ who is highly trained in inflicting and enduring pain, is the setting for DLKK. And a little under a half hour into the film the introverted, brooding Sooraj and the bubbly, extroverted Jenny realize their sentiments for each other.
Even as Sooraj tries to contend with his dark past, Tijori introduces a couple of evil psychos to offset the budding romance between the two. An insensitive remark by Sooraj brings the shutters on their liaison half-way down, but then, as the film's tagline declares 'love never hurts—love heals', our protagonists manage to weather the storm. Sooraj's quest to restore Jenny's eyesight at all costs forms the crux of the latter part of the film.
Despite a few contrived situations, Hooda's author-backed role (with Laal Rang and Sarabjit behind him, he's surely poised on the brink of mainstream stardom) helps in taking the story forward at a reasonably watchable pace. Kajal Aggarwal has tried to remain faithful to her character. The cinematography does justice to the sights and skyline of Kuala Lumpur, where the film is largely shot.

Latest posts by Hoshang K. Katrak
(see all)