The bond between soul-mates is magical, inexplicable and impossible to replicate or substitute. When souls are united spiritually, then human bonds are not the reserve of mortal realms. When companionship, friendship, selflessness and fun form the essentials of a love story, it becomes immortalised as a surreal experience embodied in love that is blessed by the divine, no less! And this is perhaps, as close as one could get, when attempting to define the extraordinary bond shared by the favourite couple of Parsi theatre – Bomi and Dolly Dotiwala. When the great thespian of Parsi theatre and actor extraordinaire, Bomi Dotiwala visited our Parsi Times office to publish his heart-warming tribute to his soulmate and late wife, the charming Dolly, he was kind enough to reveal his heart-warming and truly special love story with us. And instantly we knew it had to be shared… especially as we live in times where terms like 'love', 'marriage', 'fidelity' and 'companionship' are suffering their worst ever identity crisis… so as to provide a sense of hope, redemption and inspiration to every heart that has loved and lost. Writing his love story, straight from the heart, Parsi Times is privileged to present Bomi Dotiwala in our Valentine's Day exclusive, sharing a heart-to-heart about love and life.
.
The Beginning…
"On 8th August 1936, our beloved Shri Pak Dadar Ahuramazda decided to deliver a beautiful angel in the Athornan family of Katelis. She grew up to be a beautiful soul, and I fell in love with her even as she completed her 12th birthday! Unbelievable, but it is true. The union was pre-ordained. She was in Bengali Girls' School, I was in Sir JJPB Institute. We were introduced in Sir C.J. Hall by her school friend, during our colony's annual function. We started exchanging love letters, moreso from my side. We met daily, going to school and returning home. Not a day passed without seeing each other under some pretext or another. I bought our tram tickets at one anna each, so we could ride together. Each passing day got us closer. I'd give her rides on my British cycle 'Elcom' in the colony.
One day, my mom found a love letter and I ended up getting a firing from my papa. When the news reached her family, there was some resistance to our relationship, as she was from an orthodox Athornan family and I was Kadmi.
Getting Together…
Days, weeks, months and years passed by, till we both grew to the age of innocent maturity. We remained firmly attached to each other, madly in love. We kissed each other for first time ever in all these days, on the staircase of the building, in our colony, whilst going for music rehearsals. I used to take tuitions in her house from her elder sister. We exchanged looks, smiles with love letters. Now our love affair was open and everybody knew of it. We used to watch English movies every Sunday with her elder brother, his girlfriend and others. He deliberately used to give me my seat far away from her. Cunning fellow @#$%#@ I called him my "brother-in-outlaw."
At last, we both exchanged wedding rings on 26/11/1960. My own band was in full attendance. Immediately after my marriage ceremony, I changed clothes, put on a new suit and climbed on to the stage, leaving my poor darling wife to manage on her own. She was upset, and fired me. I had to get down and join her in the customary "Hellos" and "Thank Yous" and collect the envelopes.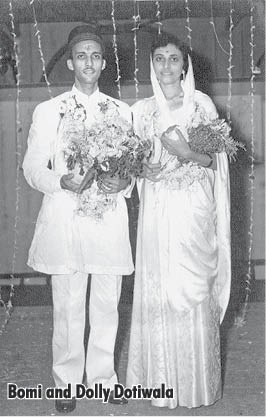 The Start Of Our Great Careers…
In May 1961, Homi Tavadia, Hilla and Nader Nariman took us to Adi Marzban at Colaba, to sing Indian film songs in Variety revenues. Later, we started doing gags and sketches. Adi saw talent in both of us and he gradually gave us roles in dramas, then main roles. We did 32 plays and 12 revues, from 1961 till Adi's Sad demise. The play 'Sagan Ke Vaghan' completed a 104 shows and even encountered a court case in Baroda.
After Adi expired, Silla Marzban asked Dolly to take over and direct the plays and act also. She did her duty so well that both of us gained popularity in Parsi Theatre. We did several tours performing plays in Delhi, Calcutta, Madras, Bangalore, Dahanu, Surat, etc and also went global – London, Dubai and East Africa.
Dolly's Failing Health…
Dolly found this duty costing her health. So we switched over to variety show viz 'Laughter in the House' I & II. We did a good number of these shows. Our friends and admirers can see and read the coffee table book, 'Laughter In The House', compiled by popular journalist Meher Marfatia and produced by Adi Dubash with NCPA.
Later on Dolly developed severe diabetes leading to issues with her foot. She underwent tremendous pain and was unable to walk on her own and needed my support all the time. I consider myself fortunate in helping and serving her all these years. I miss it now. There were quite a few good and kind hearted surgeons, physicians, who treated her absolutely free of charge. Her blessings and my humble prayers go to them all.
Lord Ahura Mazda did not wish to grant us both children as he wanted us both to 'walk the talk' – His spiritual path without any encumbrance or disturbance. My beloved Dolly did successfully walk the talk and has reached her. I'm, however, still talking and crawling on my knees, but, I am sure that with her love, guidance and divine-spiritual blessings and support, I too will achieve my desired goal. Mukti!
Losing Dolly:
The grand rehearsal of our show, 'Laughter In The House – II" on 16/2/2017 at NCPA, stretched from 3pm to 10pm. She was mentally and physically tired. We reached home at 11 pm, had dinner and went to bed. Next morning, on the 17th when she awoke at 6:30 am, she remarked, "Bomi I am feeling uneasy and my left hand is paining." (these were her last words to me). I could make out that this was due to a mild heart attack. She had some tea and went to the loo. Fortunately, she left the door open. After about 5-7 minutes, I went to see her and she was panting for breath. I called our good neighbours who helped get her on to the bed. I called the family doctor, and even as he was examining her, she breathed her last, in presence of all around, she passed away at 7:15 am. As per her good karmas during her life-time, she left very peacefully, without any suffering. Thank God! She deserved it, a happy peaceful death.
The day after she left us, on 18/2/2017, after attending her uthamna, I felt proud and happy to have performed the whole show 'Laughter In The House-II' at NCPA. At times on stage, I got choked up, but, somehow or the other, I know and felt her soul helping me to give my best. I am sure this humble gesture must have made her proud and happy. I will never ever forget the difficult effort, and how the whole audience gave a thunderous applause in appreciation of the courage, strength and devotion that she held up in me that day.
A Secret Confession:
In keeping with her physical condition, each and every day and night, I'd earnestly pray to beloved Meher Baba, to take her in His Divine Embrace First, because I was so sure that she would not have been able to shoulder the heavy responsibilities of daily chores and the house on her own. Believe you me, my beloved Meher Baba answered my humble prayers. The rest is history. An honest confession: regrettably, I did not value her during our life-time. She was truly an angel. After she left me for her heavenly abode, I received several condolence letters. After reading each one of them, I realised, how stupid I was to have not valued her as much as I should have, through these 57 years. Please forgive me Janno.
I lost a loving living angel. She has gone to her original abode in the loving arms and care of Dadaar-Ahura Mazda, Meher Baba. May her kind and loving soul rest in eternal peace and I pray day in and out, that, this was her last visit on this planet. May her pure and clean soul travel further and beyond imagination and reach her final destination – In the arms of beloved God!" And may she keep a watch – helping, guiding and loving me 24/7. Amen!
I will always love and remember You, my beloved Darling Wife DINKY'', (DOLLY)!
Latest posts by PT Reporter (see all)