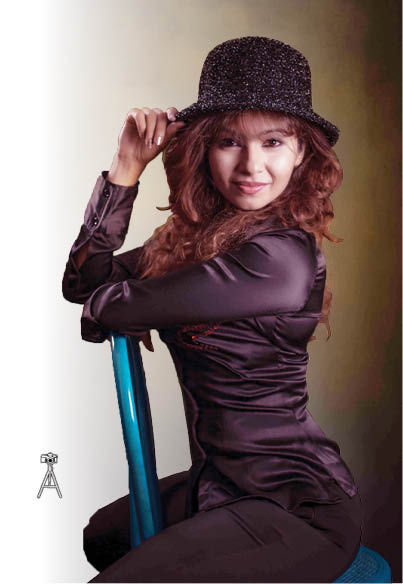 Mumbai's Monaz Mevawalla is a well-known Television star and has appeared in a host of tele-serials including Chupke Chupke (SAB Sony), Rishtoon Ki Dor and Meet Mila De Rabba (Sony), Jab Luv Hua (Zee TV), The Great Indian Comedy Show (Star One), Zindagi Teri Meri Kahani (Sahara One) and Lo Kallo Baat (Reliance Big Magic); as also in short films including 'The Mobius Strip'… and lots more!! She has lent her charismatic presence to top commercials including Coca Cola, Domino's Pizza, Yippie noodles and Mobile apps. She has also starred in Ashutosh Gowarikars 'Everest' and has been seen across stages in theatre, playing the main lead in numerous English and Hindi plays like 'Dil Toh Baccha Hai Ji', 'Teri Bhi Chup Meri Bhi Chup' and 'Dhoom Macha De'. She can be currently seen on the Disney Channel as the main lead in the program 'Maan Na Maan Main Tera Mehmaan' and 'Mayavi Maling' on Star Bharat. A professional dancer from Shiamak Davar's Institute for the Performing Arts, Monaz is also fluent in all forms of Salsa and Bachata.
Parsi Times caught up with the gorgeous and bubbly Tele-Diva, Monaz Mevawala, who loves her Parsi roots, her Parsi food and is an ardent dog lover!
PT: What snippets of your childhood would you like to share with us?
Monaz: I was quite a bully as a child! (laughing). But only as a child… Haha well maybe I still am! I graduated from Jai Hind College and have always loved the stage. Dancing was always a passion. As a kid I got enrolled in Shiamak Davar's dance classes and ended up performing and teaching dance as an instructor for a few years.
PT: How did you get into acting?
I always wanted to get into HRD, I never thought I would act! At Shiamak's dance classes I was told to get my portfolio done and distributed it to various production houses with the help of my dad since he's also an actor. My very first audition was for 'Kitty Party' on Zee TV when I was just 15 years old. I didn't think I'd get it cause I had no former training in acting, but I did! It came naturally to me. Then I got a host of offers and acted in Astitva, Rakhi and Ardhangini (Zee TV) and Saas V/s Bahu the Dance Reality Show and Ghar Ek Sapna (Sahara One). It's through acting that I discovered I had a flair for comedy and ended up getting lots of offers from comedy shows like Chupke Chupke (SAB TV) and 'The Great Indian Comedy Show (Star One). I was enjoying my work even more and my exposure to the industry increased and I got to meet new people. I received a lot of appreciation and encouragement, so I went with the flow. I realised I couldn't really handle an in-house, 9 to 5 job. And it's just amazing that acting is my passion and my career too! …And if I love the role I am doing, I don't work a day in my life!
PT: What's life like for you in showbiz?
Monaz: Like any other industry, ours too demands hard work for success and comes with its own unique issues and equations and things can get quite stressful and demotivating for talented people who aren't able to cut a break for themselves as it's overcrowded with competition. I feel that the kind of industry we are in is high-stress, and it is really important to have your own spiritual haven or support that you can fall back on to recharge yourself and stay on the right path.
PT: What qualities does it take to be a successful actor?
Monaz: First and foremost, the quality an actor must possess is sensitivity and the art of observation. Empathy towards others makes your heart 'feel' more and that, in the future, helps you portray every character you play, because it facilitates your connect with the emotion or feeling you need to act out. And what's more, it makes you a better person! Life in the show business is fast paced and it keeps you on your toes. I always strive to better myself – there's no room for complacency.
PT: Who inspires you?
Monaz: Priyanka Chopra inspires me greatly. Her confidence, her sense of self and self-belief, her performances, et al, are just brilliant. I admire these qualities in her and strive to imbibe these in my life.
PT: What does it mean for you to be a Parsi woman?
Monaz: I am extremely proud to be a Parsi woman. Peoples' faces simply light up when I say I am Parsi! Their immediate reaction is 'oh! She'll be full of fun!' It's the energy of the community that precedes us, and rightly so! Also, us Parsis have a bit of a reputation for being 'eccentric and a little mad' – to that I say, well, all of the best people are!
PT: What advice would you give to those looking to enter the glam world?
Monaz: Work at your talent constantly. Practice till you are very good at your craft. Practice healthy competition, do not use unscrupulous means to get work. Most importantly, be patient – if it's meant to be, it will be. In the meantime, persevere. Go it one step at a time and remember that the industry eventually separates the wheat from the chaff, so let talent be prime.
PT: What are your current goals and future plans?
Monaz: My current goal is to be able to express myself at my creative best in a role so that I can entertain my fans and my audiences. I have stopped making lofty plans for the future and instead believe in taking each day as it comes.
PT: You've received a number of awards – which is your favourite?
Monaz: I'm grateful to have received numerous awards and recognitions in Dance and Acting but the one I hold close to my heart is the 'Young Achievers Award (2013). I strive for excellence, not success… because if you are excellent in what you do, success will follow anyways!
Latest posts by PT Reporter
(see all)