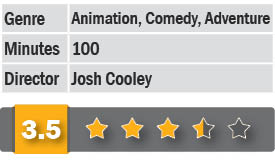 When the first in the series was released in 1995 – though fairly successful – one barely had the hunch that three more would follow: in 1999, then in 2010 and now, nine years later. Sequels are rarely meant, or expected to be as lucrative as the original. That 'Toy Story 4' debunks this popular notion, is a pleasant surprise.
 When young Bonnie (voice of Madeleine McGraw) makes a toy made from trash, to add to her ever in
creasing collection of toys (all voiced by well-known Hollywood stars), she names it Forky (voice of Tony Hale). Forky, unperturbed by the fact that it's adored by the owner, wastes no opportunity to slip back into trash. Cowboy/Sheriff Woody (Tom Hanks) takes up the responsibility of looking after Forky, till it gets separated from its owner. The opening frames of the film show us Woody sneaking into Bonnie's schoolbag as she is nervous going to school. 
 As a sideplot, but integral to the film's moral theme, Woody, who first belonged to Andy, gets to meet his one-time love interest Bo Peep Annie Potts. The dialogues of stunt motorcyclist Duke Kaboom (Keanu Reeves provide more than a few chuckles.
Toy Story 4 delves into the heart and soul of the value of toys and underlines their importance in today's fast changing world. On the back of a team of story and script writers, debutant director Josh Cooley does a fine job of TS4, bringing a sentimental and emotional angle to this animation film, especially in the closing moments. The art direction and production design by Laura Philips and Bob Pauley respectively add to the film's glamour while veteran conductor Randy Newman, who's provided the music for the earlier three TS films, comes up with a fabulous score here too.

Latest posts by Hoshang K. Katrak
(see all)