The first thing one would think upon hearing of the impending release of this film would likely be 'Three's a crowd'. The third in the series after 'Olympus Has Fallen'(2013) and 'London Has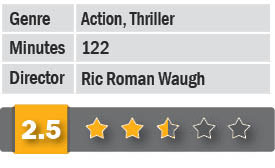 Fallen' (2016), this latest one reprises Gerard Butler as Secret Service agent Mike Banning, personal guard of US President Allan Trumbull (Morgan Freeman). Only this time, Banning suffers from headaches and migraine – a direct result of the earlier two mini-wars. While on a fishing trip, Trumbull is attacked by drones, and while 18 SS agents perish, Banning and the President lie in coma. When Banning regains consciousnesss, he finds himself arrested on a charge of attempted murder of the President – his DNA samples were found at crucial places besides $10 million in his bank account.
After a none-too-exciting first half, the action starts when Banning manages to escape and tries to find the perpetrators. While on the run, he meets up with his estranged dad (Nick Nolte), a war veteran who had walked out on the family when Banning was a child. Jada Pinkett Smith as senior FBI agent Helen Thompson, firmly on Banning's trail, and Danny Huston as old friend Wade Jennings, complete the supporting cast.
While the direction is in the hands of ex-stuntman Waugh (stuntman in Total Recall – 1990, Last Action Hero – 1993), the initial premise lacks credibility – that of suspecting an agent who has saved the life of the President on two previous occasions. The chase-cum-fight sequences and blasts and booms arouse an average level of interest, except for the explosives which Banning's dad detonates. It is interesting to note that Butler, whose trilogy of Fallen films are patterned on the hugely James Bond franchise, had acted in one of them (Tomorrow Never Dies – 1997), when starting out in films. With three 'Fallen', it remains to be seen whether the expressionless Butler can come up with one more which can witness a 'rise' in the series' fortunes.

Latest posts by Hoshang K. Katrak
(see all)