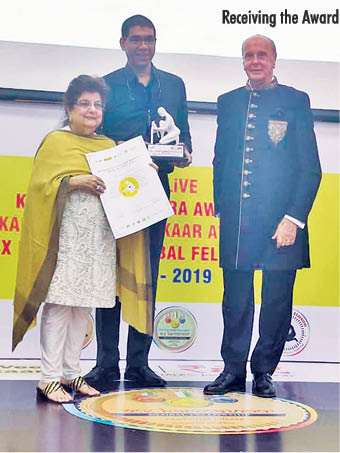 On 26th November, 2019, our Community's and India's leading performer and activist, Mahabanoo Mody-Kotwal and her son, Kaizaad Kotwal, were felicitated with the prestigious 'Karmaveer Puruskar Maharatna Award' in New Delhi, as part of a Rex and UN initiative. They received this honour for their great contribution to women's empowerment in combatting violence against women and girls.
With her son, Kaizad, Mahabanoo established The Make-A-Difference Foundation in 2008, dedicated to the cause of battered and abused women as also individual victims of abuse, across all strata, irrespective of religion, caste and creed. The Foundation has done great work in the bastis of Dharavi. The Make-A-Difference Foundation has been created to raise awareness for and funds towards ending violence against women and children, across India. Through this foundation Mahabanoo has collaborated with luminaries including Eve Ensler, Oscar-winning actors – Jane Fonda and Marisa Tomei, and Bollywood personalities and artists – Farhan Akhtar, Zoya Akhtar, Imran Khan, Loveleen Tandan, Chitrangada Singh, Mansi Scott, Suchitra Pillai, Usha Uthup and others. The Foundation works at every strata of society with a variety of projects and program in urban schools and colleges, alongside economically disenfranchised women in the 'bastis' of Mumbai.
Speaking to Parsi Times, Mahabanoo said, "Apart from my work in theatre, I use the Arts to bring about social change and towards the empowerment of women, across the board. I have started a group called 'The Empathy Meeting', where women meet once a month. The tag line of this group is 'Share, Support, Survive'. It's a totally free group where there are absolutely no charges."
A leading activist and a performer of great repute, Mahabanoo is an actor, director and producer in film, television, theatre and radio, with over 60 national and global credits to her name. A social justice advocate working diligently for women's empowerment in ending violence against women globally, Mahabanoo has received numerous awards and honours in India and across the world, for her untiring efforts. In 2018, she received the inaugural 'HER' and 'WOW' (Women of Wonder) Awards for exemplary women achievers in various fields. In 2011, she received the prestigious Karmaveer Puraskar award.
As the owner of Poor-Box Productions, one of India's premiere theatre companies, Mahabanoo has produced, directed and starred in some of India's most critically acclaimed works and the longest  running shows in English and Hindi including Shirley Valentine, Art, (W)Hole In The Head! and now in its seventeenth year in India, The Vagina Monologues (in Hindi and English).
In August 2019, Mahabanoo directed 11 American women in 'The Vagina Monologues' to raise funds for three charities – 'Rape Response', 'Centrepoint' and 'Adult Literacy', with amateur actors. "The 'Vagina Monologues' will enter its 18th year of performance in 2020. I hope to open its Gujarati version early in 2020," says Mahabanoo.
Latest posts by PT Reporter
(see all)