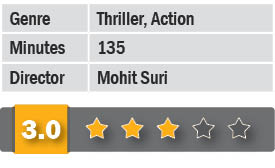 In the opening scene, reminiscent of the '70s, a guy with a well-chiseled, gym-toned body thrashes his prison inmates, while the rest of the junior artistes stand around, feebly flailing their hands above their heads. The identity of the person is revealed soon enough, but the reason for the mayhem much later. Advait (Aditya Roy Kapur), with a troubled childhood, and on an adventure spree to Goa, meets Sara (Disha Patani), a spunky NRI, who's there to soak in the sun, sea and sand. Their eyes lock and soon, other parts of their anatomy do the same! In a free-wheeling rave endemic to Goa, where booze and drugs flow quicker than tap water, an incident occurs which alters their fates and ups the thriller quotient of the film. We are introduced to two police Inspectors – the cocaine snorting Anjaney Agashe (Anil Kapoor), whose almost every appearance is accompanied by a shrieky laughter that a hyena would envy, and a relatively righteous Michael Rodriguez (Kunal Khemu, in one of his rare screen appearances).
       Though the actual events take place within a space of a few hours on Christmas eve, we are introduced to several flashbacks which explain the reason behind Advait knocking off the two cops' colleagues. Mohit Suri wastes no opportunity to showcase Aditya Roy's six-packs and Disha Patani's lithe figure. Aseem Arora's story and Aniruddha Guha's screenplay pack in enough punches to keep the viewer riveted to the screen, although the public awareness slogans, popping up all-too-frequently on the corner of the screen ('Drugs kill pain, finally the brain') too demanded attention. Asha Bhosle's 'Aaj ki raat, koi aane ko hai' from the 1972 Anamika is apt but used a little too often.
      The chemistry between the lead pair is evident. Kunal Khemu is restrained in his role. The Swedish Elli AvrRam is unobjectionable in an extended cameo and though Anil Kapoor tries his best, it's not one of his better performances. The twist(s) in the tale is welcome and the action is above-average though taut editing in the second half could have made it more enjoyable.

Latest posts by Hoshang K. Katrak
(see all)