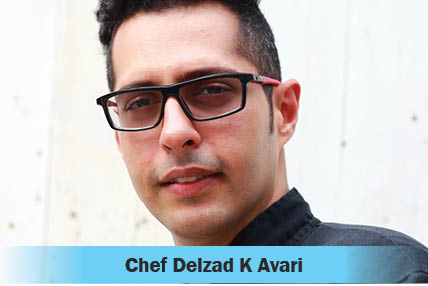 Delzad K Avari is a Le Cordon Bleu, London Alumni. His love for cooking was evident from a very young age. Having completed the Grand Diploma in cuisine and patisserie from the London campus, post his Hotel Management degree from Mumbai's Sophia Polytechnic. His expertise has been honed with rich and varied experiences including his stints with the Taj Mahal Palace and Towers (Mumbai); a Food Producer with Masterchef India – Season 2, followed by Dubai and the Maldives; and more recently, as a Sous Chef in Trinidad and Tobago in the Caribbean! 
Back home in Mumbai, he currently runs his own home chef set-up, greatly gaining in popularity, named, 'Del'z Kitchen'- an absolute go-to for all meat-lovers! Delzad also shares his expertise in Restaurant Menu Development and Consulting for his recent project – 'Tiger Lily', an upscale restaurant in Hyderabad. He has recently begun his own YouTube channel, titled 'Chef Delz', which is tasting great success! [Chef Delzad's Insta – Personal: @chef_delz  &  Work: @delzkitchen]. We welcome suggestions, queries and requests for recipes from our readers at editor@parsi-times.com
This week, Chef Delzad shares his special style of cooking up a delectable chicken liver dish and also the Parsi all-time favourite, the Kopra Pak – made easy especially for you!
.
Chicken Livers a la Delz 
Ingredients:
Chicken livers – 250 g; Sliced onions – 1 large; Ginger garlic paste – 1 tbsp; Red chilli paste – 1 tsp; Tandoori masala – 1 tsp; Jeera/cumin powder – ½ tsp; White/ red wine – 50 ml; Oil – 2 tbsp; Chopped coriander – to garnish.
Method:
Marinate the livers with ginger garlic paste, tandoori masala, jeera powder, red chilli paste. 

Heat oil in a pan and cook the onions till brown.

Add the livers to the onions and cook for 3 to 4 minutes, per side (do not overcook or the livers will become tough).

Once cooked, add the wine.

Garnish with coriander and serve hot!
.
Easy Kopra Pak:

Ingredients:
Grated Coconut – 300 g; Condensed Milk – 200 g; Vanilla essence – 3 ml; Red food coloring – 5 ml; Cooking cream – 200 ml; Sugar – 50 g; Ghee – 2 tbsp; Chopped nuts – 30 g; Saffron – a pinch
Method:
Heat milk and sugar in a pan. 

Add condensed milk and continue to cook till it thickens.

Add the coconut and continue to cook on medium heat. Keep stirring constantly to prevent sticking or burning and cook till most of the liquid evaporates.

Add the cream and continue to cook on low heat

Add the ghee and continue cooking. Keep stirring and scraping the sides constantly and continue till all the liquid evaporates. 

Add the saffron and mix it in.

Turn off the heat and add vanilla essence and liquid colour.

Incorporate well till you get a uniform pink colour.

Transfer to a tray greased with ghee and flatten with a spatula

Garnish with chopped nuts and cool till set. 

Cut only after it has completely cooled.
Latest posts by PT Reporter
(see all)