Two months ago, when I had shared with the community the article titled, 'The Virus Within', little did I know how prophetic it would turn out to be. I underestimated the depth of how diseased and vile the agenda of vested interests could be, and am experiencing the unsavoury consequence of standing up against it. Mainly because my stand is for the welfare of the community and the protection of its interests, and that gets in the way of those who wish to shamefully extract personal benefits based on their positions as well as proximity to power.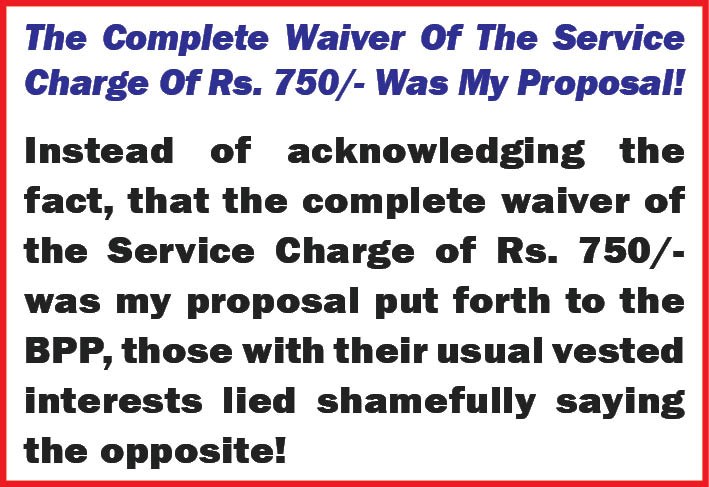 My dedication and efforts, as an elected BPP Trustee, prove as ample testament in having delivered my promise to have 'walked the talk'. My hard work and zeal to always stay connected with community members, by working at ground-level and providing timely and needed support to all, has earned the me their blessings and a bit of popularity, as one of the few go-to Trustees of the BPP, known for his 'work' as opposed to empty 'words'.
But this has offended the corrupt sensibilities of some people – in terms of ego, but more so, as a perpetual thorn in their side for not allowing their vested interests to see the light of day. They are offended by my staunch refusal to give in to their agenda, and increasingly grudge the good work that I have been doing for the community.
So, how do you hold down a good man? You go after his reputation with fabricated stories; You lie, you manipulate the past with the intention of twisting half-truths that you paint with your own treacherous brush of falsehoods and try to fool community members, with misleading tales to tarnish his reputation.
I'm used to being targeted by the usual gang of people who share the common agenda –  to downplay my efforts and the good work done by me and instead, put forward false accusations and innuendos in the hope, that all the good that I am doing will be lost in the melee of their falsehoods.
So, how does this happen? It's simple – the most intricate details of all the ongoings inside the BPP are made to come in the public domain, including all the internal emails and correspondence shared word-to-word. This has been seriously compromising the reputation of the BPP itself. More often than not, us Trustees work together – yes, there are differences of opinion about the way forward, but these should be left to be decided internally, not flaunted in public.
However, it does get into the public domain, but with an added twist! Let me speak of the recent incident on the issue of the Rs.750 Service Charges. While most of my colleagues were in favour of reducing it to Rs. 350/- or Rs. 400/-, it was my firm belief that midway measures wouldn't work and therefore, I even put the item (7b) on the BPP agenda stating we go in for a complete waiver instead of charging a reduced amount. Though I did not attend that meeting, my proposal of a complete waiver was approved in toto.
In the e-mail below dated 28th July, 2020, sent by me to my colleagues, I share with you excerpts of Points 7 (a) and (b), (points No. 1 to 6 are truncated, being beyond the purview of this article) where I have clearly mentioned that either the Service Charge be completely waived: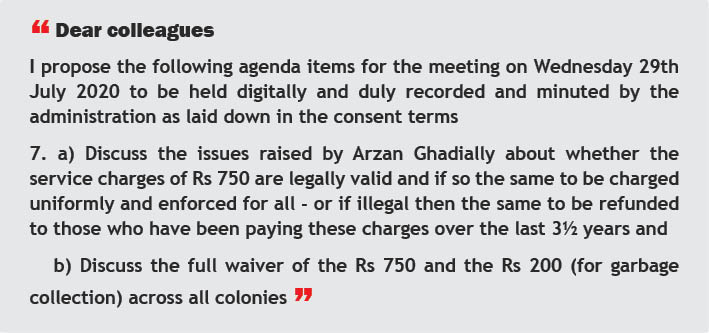 The following is the e-mail dated 2nd August, 2020, which I sent to my colleague trustees, when I got to know that my suggestions (7 b) had been accepted:
Instead of acknowledging the fact, that the complete waiver of the Service Charge of Rs. 750/- was my proposal put forth to the BPP, those with their usual vested interests lied shamefully saying the opposite, that I opposed it and they even went on to publish the pictures of the four Trustees, who were represented as 'heroes' for simply following my lead – and made me out to be the villain!!
I have absolutely no intention of claiming a collectively agreed upon decision of the Board as my own, even if I have been instrumental in generating the idea or delivering on it – as has been the case numerous times in the past. But, I will certainly not stand back in silence when false information, in complete contradiction to the truth, is being spread with the intention to malign me and my hard work.
So lowly is the intent of these people with vested interests, that they poked into my business matters, where an unsavoury person had made certain allegations against me, for his own benefit. As this matter is sub-judice, I cannot share the details at this moment.
Sadly, this started some months ago, when one of my colleague Trustees encouraged this man to file a police complaint against me! Even then, fortunately, apart from that one Trustee, the rest of my colleagues all stood by me and refused to entertain this person or allow him to continue with his mud-slinging or entertain this matter in the BPP.
In keeping with the unfortunate fact that everything discussed within the BPP reaches these vested interests, a new strategy was born. Since they were finding it increasingly difficult to deal with me on certain issues of the Parsi Community or counter the hard work that I've been putting in, they allegedly contacted this person and even drafted an email for him to send to the Trustees! The subject of the email alleged financial fraud by me, in capital letters!
Once again, the manner in which the subject in the email was framed, as well as its contents, and the number of people to whom the copy was marked, made it amply clear to me as regards who was behind this notoriety. Even the purpose of this email is crystal clear to me. I am quite confident, that sooner rather than later, this trash will appear in the public forum, to try and tarnish my name.
Legally speaking, only after an investigation of the FIR can a Charge-sheet be filed. In fact, even a Charge-sheet does not necessarily prove an allegation – that verdict is only given by the judge in the court! However, those who wish to use this information specifically with venomous, defamatory intent, will yet again flash e-mails and the contents of the FIR.
Once again, in reply to this nonsensical email, each and every recipient – Trustee or non-Trustee (barring just one individual) – wrote back to the sender asking him not to involve them or the BPP, in what was obviously a business matter, neither connected to the Trust or the Community.
For this vote of faith, I'm humbled and thankful to all my colleague trustees.
Today, I wish to go on record and publicly tell these so-called 'well-wishers' of mine, that it is possible that this nonsense and dirty tricks may some impact on those who would not have read today's clarification. Even so, I know and am confident, that ultimately all those people who know me and my reputation, and who are aware of the amount of effort, time and funds that I put into public life, will not believe a word of this malicious attack.
In fact, let me go a step further – I wish to publicly challenge and inform these vested interests that such attacks will not deter me from my commitment and agenda in the interest of welfare off the community. In fact, it will only strengthen my resolve to fight these dishonest and wicked people who bear criminal intent, and I will never let their anti-community agendas succeed.
Latest posts by PT Reporter
(see all)