Munificent Donor Noshir Gotla Epitomises Saying: 'Parsi – Thy Name is Charity!'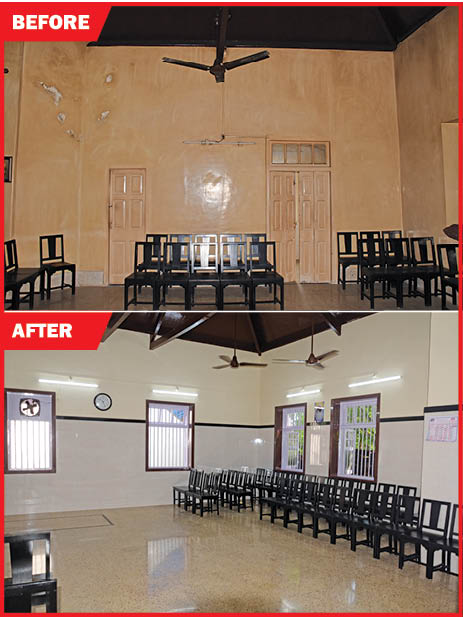 The morning of 18th October, 2020, marked the auspicious unveiling of the newly renovated Bhabha Bunglis, at the Doongerwadi, in South Mumbai. Present for the inauguration were current and former BPP Trustees as also some of our community's respected personalities including Kersi Randeria, Viraf Mehta, Khojeste Mistree, Arnavaz Mistry, Dinshaw Tamboli and Anahita Desai and others – all lauding the efforts and the philanthropic spirit of the much respected Noshir Gotla, who single-handedly paid for the renovation of both the Bhabha Bunglis which had been constructed in 1928 and were in an unfortunate state of disrepair.
Amidst the peaceful ambience of the sacred Doongarwadi, there was genuine appreciation and pleasure amongst all present as Mr. Noshir Gotla and his wife, Katy Gotla, unveiled the plaque commemorating their donation. Mr. Gotla's sister, Dina Kekobad Irani and cousin, Freny Behram Kamdin, had the honour of cutting the ribbon of the two Bunglis. The BPP Trustees gifted the couple a special plaque as a mark of gratitude from the community.
BPP Trustee Kersi Randeria praised their good work, saying, "It is rare to find such fine individuals who contribute this large sum of money from their own savings in the service of the community. They are indeed blessed."
Introducing Noshir Gotla, Anahita Desai showered deserved praises, saying, "In the previous century, we have seen Parsi Sethias who indulged in such acts of charity from their own personal funds and built Agiarys, educational institutions and Bunglis. However, over the past few decades, there have been few philanthropists of such stature, and the maintenance and upkeep of community institutions and places of worship, has been managed by donations from trusts and from small amounts collected from community members. Today, it is commendable to note that the entire renovation has been done by, for want of a better word, an everyday Parsi Bawaji."
Indeed, Noshir Gotla came across as a dignified and simple 'common man' who accomplished a very uncommon task – donating Rs. 47 lakhs from his own personal savings to reinstate the two Bhabha Bunglis to their former glory.
Not only did he himself approach the BPP for permission to undertake this herculean task, but he was also actively involved in every step of the project – from deciding on the contractors, selecting the tiles and bathroom fittings, purchasing the fridge, dinnerware, cutlery, bedsheets and pillow cases, et al for use of the relatives of the deceased who would be staying for the last rites. For him, this was a labour of love.
Helping him bring his vision to fruition were the contractors Namji Bhai and his sons Anil and Mehul – who were extremely respectful and considerate of the task they had been entrusted. Even though they had started work in January and had to cope with the issues of logistics of supply of materials and labour presented by the lockdown, they still managed to complete the renovation by October. Their work speaks for itself.
Vistaspar Cavas Mehta, the esteemed and very helpful Manager of Doongarwadi and his entire team were most cooperative through the entire process – ensuring the smooth and efficient coordination of the entire process of renovation.
Generous donor – Noshir Gotla credited his ability to do charitable work to his habit of saving right from the beginning of his career. "I first started by saving Rs. 10 every month when I began working," he shared. His wife, Katy Gotla, spoke about how he had always lived by the principle of 'simple living', saying, "We never ate at expensive restaurants or travelled by taxi. We don't have a car or even a scooter. Our home does not have an A/c." In today's times, where selfishness has reached an all-time-high, it was indeed refreshing and inspirational to know how the Gotla couple had become the symbol of simple living and high thinking.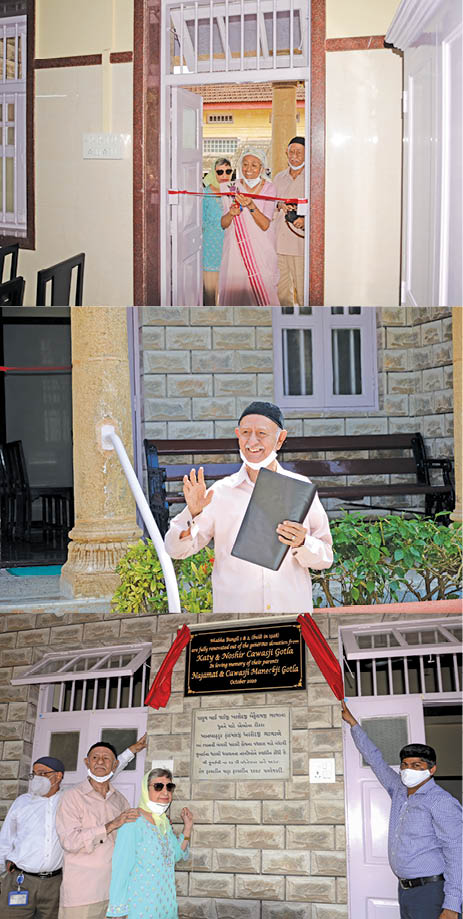 Katy Gotla has been the constant support, the strong woman, behind her large-hearted husband. Over the years, their down-to-earth lifestyle and wise investments indeed paid rich dividends, which they are devoting to the community. Other that this praise worthy renovation of the Bhabha bunglis, the Gotlas have also donated Rs 1.11 crores to Helping Hands Charitable Trust – a medical home for senior citizens at Pardi, the hometown of Noshir Gotla. Other notable contributions include those made to the Victoria Memorial School for the Blind (Tardeo, Mumbai) and Contractor Chawl (Byculla, Mumbai). These are in addition to the innumerable contributions ranging from Rs. 1 – 2 lakhs, which they have contributed to various schools, institutions, Agiaries and hospitals.
On behalf of the community, Parsi Times whole heartedly commends and thanks this munificent and benevolent couple, who have set the precedent and re-instilled the essence of simplicity, humanity, compassion and community service through their own blessed lives. The world could truly do with more such altruists, who put the needs of others before themselves and make us all proud to be Zarthostis.
Community Members who would like to contribute to the renovation of the other Bunglis at our sacred Doongarwadi are requested to contact the BPP. Our heritage needs to be preserved and we will succeed with the efforts and contributions of all community members.

Latest posts by Razvin Namdarian
(see all)