Sad And Shameful Behaviour!
This letter is in our personal capacity and NOT as members/trustees of any organisation or Trust.  Normally we prefer to abstain from any commenting on any controversial issues, but the recent haranguing of one of the finest gentleman, a member of our community,  Dinshaw Tamboly, is not only disheartening but is downright sickening.
Let us view this entire matter analytically. What is required of a member of the NMC as per Padma Shree Keki Daruwalla, former Minority Commission member's article (in PT dated May 19, 2017) "the candidate should have a good knowledge integrity, ability and stature to deal with State and Central Governments".  He further states "No member can dilute or affect the socio-religious fabric of the community. The commission has nothing to do with the altering the religious belief of any community – it is not interested in your religious beliefs." This comes from no less than a person than one who has served the Minority Commission for one term of three years.
India is a country with the most diverse communities and castes in the world.  If the NMC concerned itself with the religious belief of all communities, there would be no time for any real minority work. To a lay person, what a member is required to do is to safeguard the interest of not only the members of the community that he represents, but also other minorities.  If that be the case, then the first name that comes to mind without doubt is that of Dinshaw Tamboly.  The contribution that he has made to our community is not only colossal and without parallel, yet this is the kind of man some within the community choose to malign. Sad, disgusting!
We are reminded of the year 1996 – the time when Dinshaw Tamboly contested the BPP Trustee elections for the first time. Then too he was targeted mercilessly. The greatest bogey that was presented by his detractors at that time was that a radical like him would be disastrous for the community. That, should Dinshaw be elected he would be instrumental in throwing the gates open for the Brazilian converts and the likes to come into Udwada, who in turn would go into the precincts of our holy Iranshah desecrating our revered Padsha Saheb.  Two decades have passed since that time and we are still awaiting the Brazilians! Neither has the sanctity of our Atashbehrams and Agiaries   been compromised.
Our religion teaches us "Good Thoughts, Good Words, Good Deeds!" Dinshaw Tamboly is the embodiment of the same.  Let us stop maligning this very upright Zoroastrian or belittling his immense contribution to the community! It is not only sad, it is downright shameful!
Mithoo and Jimi Jesia, and Tina Percy Patel (mejmtdadar@gmail.com)
Very Well-conducted ZPFAI Meeting
I had the pleasure and privilege to attend the FED meeting on 29th and 30th April.  After a long time I felt it was worth my while in time and money to come to Mumbai from Nagpur to attend the meeting. The meeting was held in a cordial and professional manner where in many important issues were amicably discussed and resolved. These meetings serve the purpose of facilitating the elders of the community to meet, learn of new developments, discuss various issues, help resolve some, if possible and over-all develop an environment of brotherhood and fellowship so as to serve the community better.
The major issues of election of office bearers', finalisation of accounts and amendment of constitution were very ably dealt with. My compliments for the same. These are not easy matters and results came in due to absence of ego on the part of Chairman Yazdi Desai and the executive committee. All members were given a chance to speak and suggestions were accepted. Please keep the organisation democratic like this always.
I trust and pray that under your able stewardship the august offices you lead can once again be a beacon of light for the community to follow. Complements to Desai and his team once again!
Navroze Daver,
Vice President, Nagpur Parsi Punchayet.
Re: BPP Service Charges
For those who know me, I have no political alignment or vested interest – I have always peacefully and within the framework of the law, protested against injustice or oppressive policies, be it in my earlier years against the MTNL, BEST, MCGM, Police, Railways, Traffic and even cruelty to animals. Why then should I not question the BPP for this steep increase? This protest was avoidable had it been made abundantly clear in the circular of January 7, 2017, that a subsidy or a rebate would be given to all those who could not afford the increase.
I was hoping to resolve this issue of the steep increase and had therefore twice in the past postponed my travel to Canada where I am required to be for a follow-up after my surgery. Since I am likely to be away for some time I have been having talks with some trustees informally. I have now been told by them, that all those who cannot afford and are not willing to pay this steep increase, should send in your applications with details including your Name; Postal Address; Contact Information; Number of Family Members Residing at the Address Mentioned; Monthly Family Income; Disclosure of Ownership of any/all Two-Wheeler(s) or Four Wheeler(s), along with the Make and the Year of Manufacture; and a Declaration regarding your Inability to Pay The Increase in Service Charges @ Rs.750/- per month, along with the amount you are able to pay per month; Dated, Signed and Attested by you. The trustees have assured that all the applications will be handled discreetly and confidentially, and will consider the applications on merit, without causing embarrassment to the applicant.  However the trustees would be within their rights to make their own inquiries and thereafter decide.  I suggest those residents desirous of availing this scheme should apply immediately. 
In the meanwhile to protect their interests, all those who are not paying rents and other dues at present may send a cheque to the office of the BPP, either through their associations or by speed or registered post (A/D) for their rents and other legal dues based on their January 2017 figure without the increased service charges pending the final decision by the trustees.
Even though I may be out of the country, I will be available through SMS or Whatsapp on my cell: 9820062323. I have never ever in any forum dissuaded those who willingly wish to pay. On the contrary I encourage all those who can to also donate if they feel the BPP is in need of such donations.
Long live our Kom-unity!
Phiroze Amroliwalla (phirozeamroliwalla@gmail.com)
Amroliwalla Dissociates Himself From Letter Published In Mumbai Samachar
Subsequent to the publication of the letter published last Sunday in Mumbai Smamchar titled 'Reply To Yazdi Desai's False Allegations In Parsi Times Of 13th May 2017', and now the circulation of that letter in the social media, as my name appears prominently in the letter, I wish to clarify that I am not a signatory to this letter. It is true that I attended the meeting with the BPP Trustees, along with the others mentioned in the letter, on the 25th of April 2017. However my participation and deliberation is, and will always be, restricted to the increase in service charges only.
By Phiroze Amroliwalla
Unauthorized Representation By Jamshed Gadiwalla Of Captain Colony Welfare Association In Public Meetings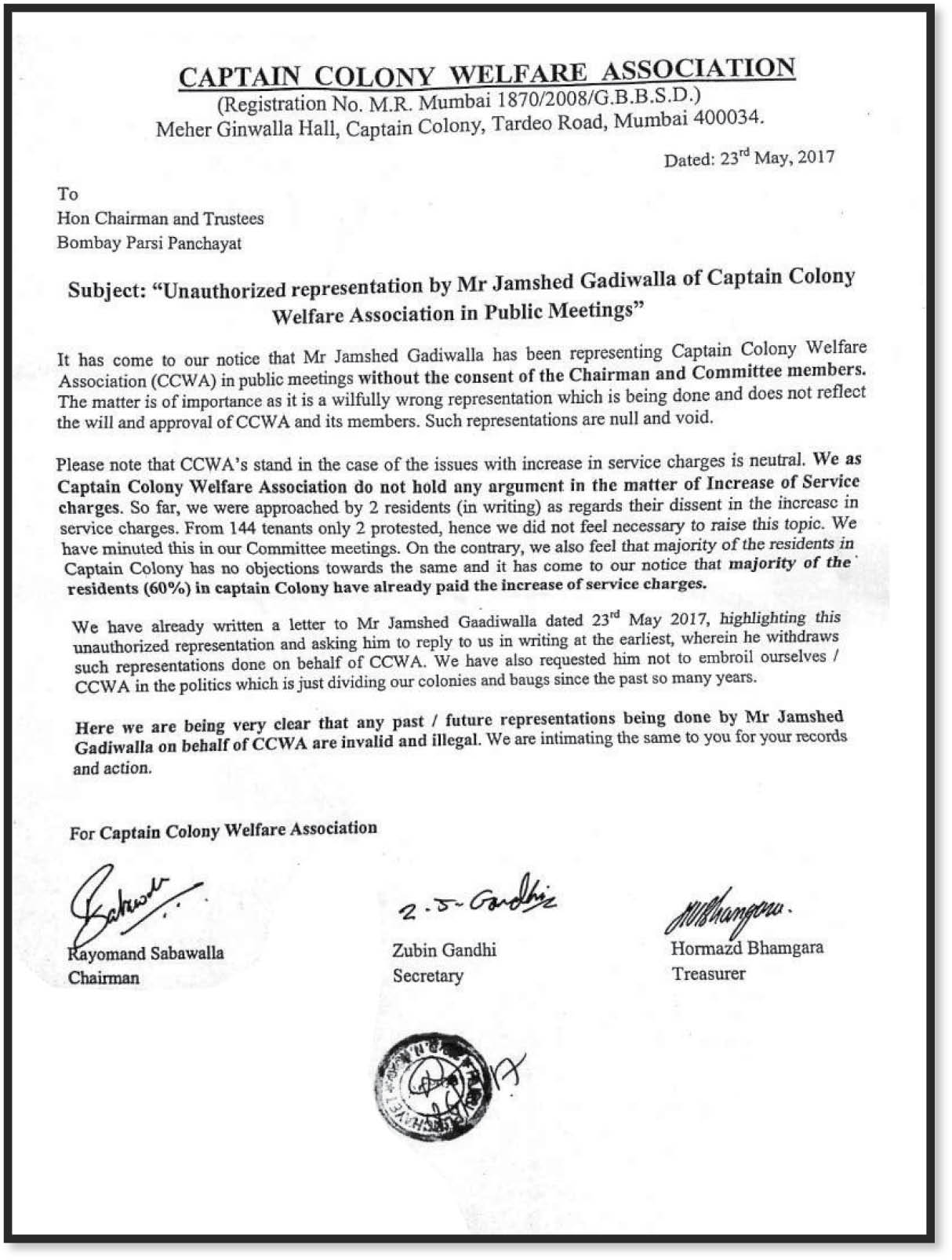 It has come in our notice that Jamshed Gadiwalla has been representing Captain Colony Walfare Association (CCWA) in public meetings without the consent of the Chairman and Committee members. The matter is of importance as it is a wilfully wrong representation which is being done and does not reflect the will and approval of CCWA and its members. Such representations are null and void.
Please note that CCWA's stand in the use of the issues with increase in service charges is neutral. We, as Captain Colony Welfare Association, do not hold any argument in the matter of increase of Service charges. So far, we were approached by 2 residents (in writing) as regards their dissent in the increase in service charges. From 144 tenants, only 2 protested, hence we did not feel necessary to raise this topic. We have minuted this in our Committee meetings. On the contrary, we also feel that majority of the residents in Captain Colony has no objections towards the same and it has come in our notice that majority of the residents (60%) in Captain Colony have already paid the increase of service charges.
We have already written a letter to Jamshed Gadiwalla, dated 23rd May 2017, highlighting this unauthorized representation and asking him to reapply to us in writing at the earliest wherein he withdraws such representations done on behalf of CCWA. We have also requested him not to embroil ourselves / CCWA in the politics which is just dividing our colonies and baugs since the past so many years.
Here we are being very clear that any past/future representations being done by Jamshed Gadiwalla on behalf of CCWA are invalid and illegal. We are intimating the same to you for your records and action.
For Captain Colony Welfare Association:
Rayomand Sabawalla, Chairman
Zubin Gandhi, Secretary
Hormazd Bhamgara, Treasurer
Clarification Re: Letter Published In Mumbai Samachar's 'Parsi Darshan Page' Dated May 21, 2017 By Godrej Baug Residents Welfare Association
We refer to the letter under title 'Reply to Yazdi Desai's False Allegations in Parsi Times of 13th May 2017' signed by Parvez Driver, Secretary of Panthaki Baug Welfare Centre; Jimmy Gadiwalla, Committee member, Captain Colony Welfare Association; Urvax Dhanda and Viraf Kapadia, Activists, Godrej Baug.
We have to state and clarify that we were present at the meeting with the BPP Trustees on invitation of Hon'ble Chairman, Mr. Yazdi Desai, to consider relief to deserving community members wherein the issue of 'Increase in Service Charges' by BPP was discussed.
Our names have been included in the above sighted letter in a manner to imply that we concur with the statements made in the said letter with respect to the discussions and proceedings at the BPP Meeting which we unequivocally state to be without our express knowledge and hence the statements and comments made in the subject letter cannot be ascribed to us in anyway whatsoever.
At the outset we have made our position very clear to the members conveying the meeting of various Associations and other individual members of the community that Godrej Baug Residents Welfare Association (GBRWA) has had discussions with the BPP Trustees on the issue of Increase in Service Charges and accepted the same and hence it would be unprincipled on our part to comment against the increase. We accepted the present increase as we felt the Financial Strength and Prosperity of BPP is far more important for the good of our community as a whole rather than individual considerations or sins of cross subsidy.
The Hon'ble Trustees of the BPP too reciprocated positively to GBRWA's request that views of Respective Associations should be considered and given weightage it deserves before any such decision for increase is made in future. The Hon'ble Trustees suggested that they will form a committee of elected members of respective Associations of the various Baugs to debate and consider such issues before implementation. Further, the Hon'ble BPP Trustees whole heartedly had agreed with GBRWA that they will consider relief to our residents who are economically affected on recommendation of the Association itself and not impose any intrusion from liaison, committee to check the resident's bonafides.
We strongly believe that BPP and the respective Baug Associations of elected members should work in the spirit and on principles of Co-operative Federalism, interact co-operatively and collectively to resolve common problems and issues on hand keeping the larger good of our community in mind apolitically.
For and on behalf of Godrej Baug Residents Welfare Association:
Farhad Hozdar, President
Shahrukh Bilimoria, Hon. Gen. Secretary
Arzan Ghadially, Member Security Sub-committee
Latest posts by PT Reporter
(see all)