Navsari Samast Parsi Zoroastrian General Fund, Navsari Bhagarsath Anjuman and Navsari Malesar Behdin Anjuman jointly organized a grand function at Jamshed Baug, Navsari on 17th June, 2017, to felicitate Vada Dasturji Khurshed Kaikobad Dastoor upon his appointment as Parsi Member on the National Commission for Minorities.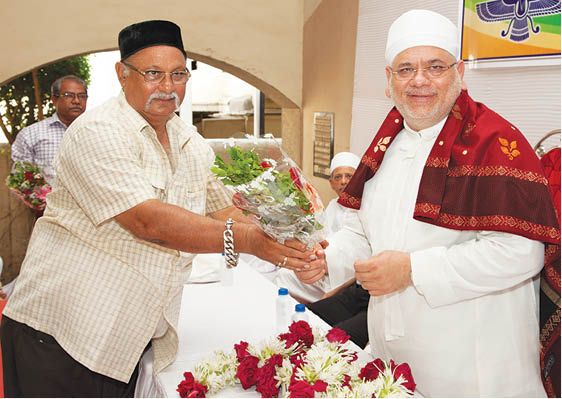 Commencing at 5 pm, the representatives of all the associations, alongside members of other minority communities, felicitated Dasturji Khurshed, in the presence of local dignitaries of Navsari and Vada Dasturji Kaikhushru Meherjirana of Navsari. Eminent Mumbai dentist, Dr. Porus Turner, who was in Navsari to hold a free dental camp for Zoroastrians, felicitated Dasturji Khurshed with Chairman, WZO Trust funds, Dinshaw Tamboly, Dara Deboo. Representatives of the Christian and Sikh community congratulated Dasturji Khurshed on his appointment and lauded his achievements, after which Dasturji Khurshed spoke of his new responsibilities, not just for the Zoroastrian community but for all the minorities.
In his short but informative address, Dasturji Khurshed mentioned the presence of numerous facilities available to minorities, which remained unutilised, and requested local community leaders to share details of the Prime Minister's 15 point programme, which stresses on providing quality education to all minorities. Dasturji concluded his address by recounting that earlier in the day at a function at Bardoli, Surat's famous thespian Yazdi Karanjia mentioned that we knew about the seven 'vars'- somvar, mangalvar, etc but there was also an eight 'var' which was 'Parivar' or family. Dasturji exhorted members of all communities to live as a 'parivar' – united and strong, as that would enable our nation to be solid. He assured community members of his full dedication towards solving their legitimate issues. The function concluded with the rendition of Chhaiye Hame Zarthoshti and the National Anthem.
Photo Courtesy: Sarosh Daruwalla
Latest posts by PT Reporter
(see all)