22nd August, 2017 witnessed Zarthostis of Bilimora gather in the evening at Tata Baug to celebrate Khordad Saal. The program started with a humbandagi and Er. Marzban Hathiram lit the divo, followed by Marzban Baria reading out a poem on Zarathushtra and welcoming Er. Hathiram. A round of felicitations took place in which, Panthaki Er. Kurush Sidhwa and Assistant Mobed Er. Pirojshaw Karanjia of Bilimora Agiary, the chasniwala boys, Minoo Katrak from Chikli, Kersee N Baria and Khushroo Mehta were felicitated for their contributions towards the Bilimora Agiary, and Parsi press coverage respectively.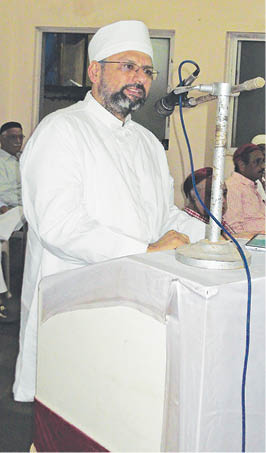 Er.  Marzban Hathiram began his talk with good wishes to the community. He asked, "What is our liking or attraction towards Paigambar Zarthost?" He said it was huge topic and spoke of events related to His birth. He asked again, "What is our common belief on Zarathushtra's birth and life?" He said the Amar Chitra Katha on Paigambar Saheb is a good compilation. Er.  Hathiram continued by saying that, the period during which the birth of Paigambar Saheb took place, the situation of the world was very troubled. It is said that Dhartimata requested Ahura Mazda to send a savior. But what is the truth behind this? Today a proof and explanation is required for everything. The points that we know on Paigambar are in the Avesta where it is written about Zarathushtra. In Pehlvi literature too, there are references to Paigambar in Dinkar Vol.7. The writer says that: "I am not speaking about His life, I am only describing HIS miracles". Overall there is NO reference that Paigambar Saheb was a human. He was a Yazad, a divine power. He was a yazadgar in the form of human; however he did not live a human life. In the Avesta, the 5 Gathas, at the start explain that Paigambar Saheb had the Mann, vichar, karmo of the highest inspiration. Er.  Hathiram informed, it is written that Dadar Ahura Mazda said to Dhartimata, "He is the only one who has heard me and He will be the one who will clean the earth." It is also said that before a Paigambar is born, 10 generations prior the preparations start for His birth. He referred that Spitaman was the 10th generation before Zarthosht and so His name is taken as Asho Zarthost Spitaman.
Er. Hathiram informed that there were 3 different things that happened during the birth of Zarathushtra. First – the people felt that 3 days prior to the birth of Zarthost, the sun did not set, this is because the light coming out of the stomach of Dogdo banu was making the whole place bright. [There is a reference to this in the 24th karda of Fravardin Yasht]. Second – Zarathushtra's birth took place during the morning Hosh Bam time, He prayed Yatha Ahu Vairyo on birth. This is the prayer which reminds us of the birth of Paigambar. Third – He smiled, when new born babies cry. Seeing this, 7 women who had come to assist the delivery of the baby, ran away! All this was an indication that good had arrived and evil had to go.
Er. Hathiram concluded by remarking, "First deserve, then desire." Nature will surely answer your wishes, as it is GOD alone who knows what our worth is. However one must not lose faith and keep praying with all the laagni and not just be materialistic. Post the talk, the 270 strong Zarthosti crowd headed for dinner catered by the Jimmy Dandiwala.
Latest posts by Khushroo P. Mehta
(see all)