We eagerly wait for the rains to come. When we feel parched and find the heat unbearable, we pray to the Rain Gods. Rains are an amazing cleanser and a therapeutic balm of nature, cleansing Mother Earth and wash away that arid feeling, helping us all renew.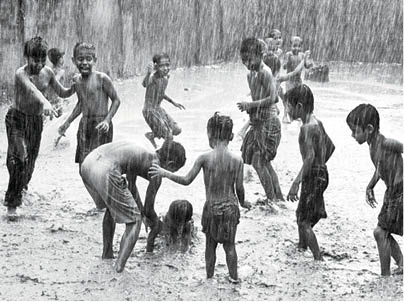 We desperately await the rains to escape the scorching heat, and yet once the rains come, we get irritated and start grumbling about potholes, getting wet, traffic jams, mud splashing on clothes, flooding, etc. We are happy with the rains so long as we are not discomforted. Doesn't this extend to our lives in so many aspects? Haven't we become conditional about life?
Realizing its necessity, it is time we learn to welcome it unconditionally. If one truly wishes to enjoy, then learn to surrender and accept life in all its wondrous entirety. And if you truly wish to enjoy the monsoons, then maybe it's time to look at it differently… when you welcome the rains, welcome them whole heartedly, unconditionally. Yes, you will get wet at some time this season but tell yourself that's okay – this is the monsoons after all – how can you partake of them without at least one good drench?
Breathe in the smell of mud as the rain falls on it, it's therapeutic to the soul. Standing at a window, listening to the pitter-patter of rain is calming. Let the rains uplift your spirit as you see nature blossom around you. Many fishes breed in this season. So do birds and insects. Let life grow and fertility rejoice in abundance! And most importantly, let these natural showers wash away all that inner angst or hurt or negativity.
This is probably the best opportunity to connect with nature – go for drives and watch nature's splendid beauty in the gushing waterfalls. This is the best and easiest time to forgive and forget – let new life, new thoughts and new ideas germinate. Let inner hurt and pain be done away with. Grow from within as you see life springing up around you.
Be grateful to the rains for giving you those extra holidays to spend time with your loved ones. Can we really blame something so beautiful for lacunae in infrastructure, lack of co-ordination, planning, organization and even bureaucracy? Are the rains really responsible for all the potholes and unavailability of cabs out there? Let go of these small temporary complains – indulge in piping hot food, aromatic hot beverages like coffees, teas or cocoa. Don't forget to enjoy the rains outside bringing you small pleasures within your home.
So, what are you waiting for? Put your hand out and let the rain give you those cleansing, fleeting kisses!
Latest posts by Kashmira Shaw Raj
(see all)