Commemorating International Mother's Day, which falls on 13th May, Parsi Times' Asst. Editor, Delaveen Tarapore celebrates the essence and joy of what motherhood means to some of our super-moms who warmly share their unique gratifying and exhilarating phases of motherhood…
.
Havovi Dastoor – Mother of Parinaz (19), Shanaya (15) and Darius (12): "At this moment, being the mother of three teens is one of the most happy and satisfying phases of my life. I believe there is no job more important than parenting. As it is truly said, 'It is easier to build strong children than to repair broken men.' It has given me utmost gratification to have given my children strong roots and wings to fly on with their dreams."
.
Freyan Bhathena – Pet Mother of the gorgeous 5-year-old (Maltese) Xena: "Some people roll their eyes when I call Xena my daughter but she truly is my most favourite companion and I dote on her like any loving mommy would dote on their child. She relies on me for everything and bringing her up and keeping her healthy and happy has been a responsibility I have undertaken for the past five years with pride, care and joy! In return she wags her tail, cuddles and plays with me and looks at me with love and adoration! When it comes to Xena, every day is Mother's Day for me!"
.
Nilofer M Currawalla – Mother of 21-month-old Tushad: "I always wanted to have a large family. It's the most beautiful feeling ever. The 9 months, the labour, but when you hold the little bundle of squirming baby, it's indescribable, and to call it 'surge of emotions' would be to put it very mildly.  I think every mother has her own unique challenges, what our mums faced years ago would be so different from what we the current generation moms face. For me the greatest challenge is to balance work and my mithoo jaan, Tushad. Every single moment I do not work is with my baby, and it's not because I have to or because it's my duty, but because I 'want' to. My most precious moments are when my child attempts to feed me while I am feeding him, and nothing can buy that kind of joy!"
.
Mehroo Elavia – Grandmother of Rohan (17) and Rhea (12): "I truly believe that the only thing better than being a mother, is being a grandmother! Being a grandmother is one bliss, no money can buy. After a gap of several years you once again get a chance to play with children. The bond between a grandmother and her grandchildren is unbreakable. As a grandmother, I can't help but shower them with gifts, goodies and affection, and all that I would want from them is their love, hugs and kisses! However, you need to strike a balance and hence I will not spoil my grandchildren even though I love them to the moon n back!"
.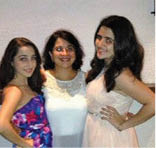 Nilufer Dalal – Mother of Faranaz (26) and Kaianaz (22): "For me, the evolution of motherhood has been extremely special, right since the time my babies were toddlers. As the years have passed, my children and I have worked out our behavioural patterns and have accepted them as who we truly are. Being a working mother, I am blessed with a joint family where my kids were looked after by their grandparents. As a parent, I have strived to imbibe good values into both my girls right since their childhood. Today, my daughters have grown into beautiful and enterprising young women and I am confident they will excel in their lives."
.
Maheringiz Khodaiji – Mother of twins Pakzin and Pakzan (15): "I am a mother of twin girls and what a treat it has to watch them grow into beautiful young ladies. The most gratifying part of having teenage daughters is to witness how quickly they mature and become independent. As a mother, I have always strived to provide them with the right education and direction, while a part of me is always hoping to keep them away from harm's way. They are innocent yet mature, but for me they will always be my 'little princesses'.
Latest posts by Delaveen Tarapore (see all)