Traditional Mutton Soup
Ingredients: 500 gms – Lamb Bones; 3 tbsp – Ghee; 1.5 tbsp – Ginger Garlic Paste; 2 Onions – finely chopped; 2 – Cardamoms; 1-inch – Cinnamon Stick; 1 tsp – Turmeric powder; 2 – Green chillies; 2 Tbsp – coarsely ground Pepper; Salt to taste; Half bunch – Coriander Leaves; 1 cup – Fresh Cream
Method: Heat ghee in a pressure cooker. Add the bones, ginger-garlic paste, onion, cardamom, cinnamon, turmeric powder and green chillies. Fry till all the water has dried up. Now add 4 to 5 cups of water and cover. Cook for 6 to 7 whistles or till the bones are a little soft. Bones take longer to cook than the meat. Open the lid and adjust the consistency of the soup by adding water. Add the coriander leaves and the cream. Bring to a boil. Remove from heat and serve hot.
.
Creamy Chicken and Mushroom Soup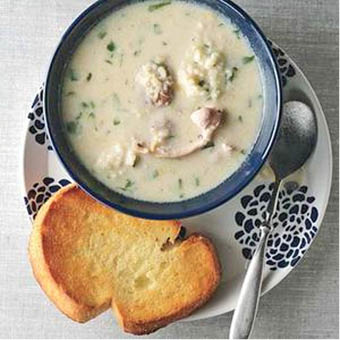 Ingredients: Boneless Chicken Thigh cut in cubes – 250 grams; 12-15 Button Mushrooms – chopped; Chicken stock – 3 cups; Cream – ½ cup; Butter – 2 Tbsp.; 4 Spring Onion bulbs – cut into quarters and separated into layers; Coarsely Ground Black peppercorns – ½ tbsp.; Parmesan Cheese powder – 4 tsp; 2 Spring onion greens – chopped; Salt to taste
 Method: Bring the chicken stock to boil in a deep non-stick pan. Heat butter in a non-stick wok. Add spring onion bulbs and sauté for a minute. Add mushrooms, toss and sauté well. Add chicken, mix well and sauté further. Add salt and crushed peppercorns. Toss well to mix and sauté on high heat till the chicken is cooked. Switch off heat and set aside. To the boiling stock, add Parmesan cheese powder and cream and stir well. Reduce heat and simmer for 2-3 minutes. Place the cooked chicken-mushroom mix in a serving soup bowl. Add chopped spring onion greens and pour the broth over. Garnish with some more chopped spring onion greens and serve hot.
Tomato, Onion And Carrot Soup
Ingredients: 8 Tomatoes – roughly chopped; 2 medium Carrots – roughly chopped; 1 Potato – peeled and sliced; 1 Onion – sliced; 4 Garlic cloves – crushed; Vegetable Stock/Water – 2 cups; 1 Bay leaf; 4-6 Black Peppercorns; 5-6 Fresh Mint leaves 4-6; Salt to taste; 2 Brown bread slices
 Method: Toast the brown bread slices in a toaster and cut toasted slices with a sharp knife into small square pieces. Pressure cook tomatoes, carrots, potato, onion and garlic with one cup vegetable stock or water, bay leaf, peppercorns, mint leaves and salt. Cool the cooked mixture. Ensure the potato is thoroughly cooked. Remove bay leaf and puree it to a fine consistency in a blender. Heat the pureed vegetables in a pan, add the remaining vegetable stock or water and add salt to taste. Simmer for five minutes and serve with toasted brown bread croutons.
Latest posts by PT Reporter (see all)