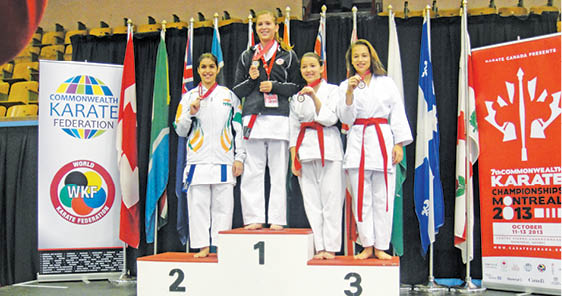 17-year-old Vaishta Cooper, living in Mumbai, has indeed done our Community proud over the years with her growing proficiency and constant wins in the field of Karate!
Having just appeared for her XII Board exams, Vaishta intends to pursue BMS from her current HR College, where she was declared 'Best Sports Woman' (Mumbai) for 2018 – 19. Vaishta was also one of the very first few Parsi girls to win a Common Wealth Medal (Silver) at the Common Wealth Karate Championships, held in Montreal in 2013.
Vaishta has pulled off a fabulous winning streak over the past couple of years, with a dream-run over a 2-week period in Nov – Dec, 2018, being the highlight:


On 19th November, 2018, Vaishta participated in Mumbai's DSO event bagging the Gold Medal in the Kumite Event. Barely having time to even change, she had to rush off from the venue for the airport to take the flight to Jakarta (Indonesia) to participate in the 6th AGKF Championship and Festival where she did our country and community proud, winning three medals! It should be mentioned here that in one of the events in Jakarta, she had to participate in a senior category than hers, the 'Under-24', due to lack of entries in her group – but won, even so!
And even as she got done with her wins in Indonesia, the teenager had to rush back on November 25th to fly back into Mumbai at 3:00am, so that she could report for the DSO Zonal Finals which began at 8:30 am on the 26th, where yet again, despite the muscle fatigue, sleep deprivation and travel exhaustion, she won a Silver medal in Kumite! One week later, at the All India Tiger Cup on 2nd December, 2018, she won another Gold in the Individual Kata and a Silver in the Kumite event.
Definitely a sports prodigy in the making, Vaishta trains under Shihan Jehangir Shroff, 6th Dan Black Belt (YKKF / NF / WKF), and a World Karate Federation – Accredited Coach, as well as President and Chief Instructor, JSFA and YKKF India.
Parsi Times has been tracking Vaishta's wins right from the start and was delighted to catch up with the young sports sensation for a quick and brief interview:
PT: Who / what inspires you to keep working hard? 
Vaishta: Representing my country and my community is my biggest inspiration. There is no greater sense of achievement than adding to the great contributions made by Parsis and Indians on local, national and global platforms.
PT: What does it take to be an achiever? 
Vaishta: A lot of hard work and a bit of luck too! But I've seen that when you put in your best, the universe will come together to help you as well. And, as mom always says… sometimes in life, all you need to do is just show up, no matter what! A sense of discipline, consistency, fairplay, sportsmanship and dedication in sports is most vital.
PT: What are your other hobbies or academic interests? 
Vaishta: I shop to indulge, workout to stay fit, and dance to be happy! I've completed my 12th Standard Board Exams and look forward to doing well academically, too.
PT: What do you want to take up as a career in the future? 
Vaishta: Nothing concrete decided as yet, I'm just taking life one day at a time. And I'm hoping that there's good things in store!
PT: Your message for our readers..
Vaishta: Work hard and stay inspired. Let's do our community and country proud! And I wish to thank Parsi Times very much for always publishing my wins and encouraging me through this wonderful journey. Your support for the youth of our Community is doing wonders – virtually every week we get to read of great achievements by Parsi youth across the country and even the world! That truly inspires the rest of our youth to also get going!
Latest posts by PT Reporter
(see all)