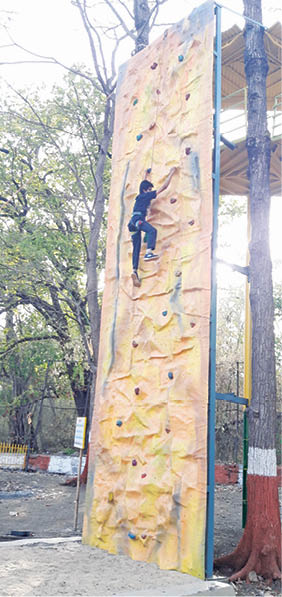 The WZO Trust Funds' 9th Annual Summer Camp kicked off with twenty-six enthusiastic Zoroastrian campers, aged nine to fourteen years, from Navsari and nearby villages, setting up camp at the Kilad Camp Site, developed by South Dang Forest Department in Taluka Vansda, Dist. Navsari, from May 4 to 8, 2019.
Day-1 saw the excited campers reporting at 11 am at the Bai Dosibai Kotwal Parsi Orphanage. Percy Surti, a past WZO Trust beneficiary, organised the bus which reached the campers to Kilad by 1:30 pm.  The day was filled with fun activities including tent assembling, zip-line river crossing (over the bank of the Ambica River), building new friendships and lots of amazing Parsi food!
Parsi prayers and meditation in the lap of nature marked an auspicious start for Day-2, followed by a 4.5 kms trek through the Gira Waterfalls. The children learned about different bird species, trees and plants through the trek. During the breaks through the trek, they visited various tribal artisans who demonstrated making items from bamboo like name-plates, key chains, vases and frames. Other highlights of the day that the children revelled in included a magic show, artificial rock climbing, a pre-dinner walk by the riverside, and post-dinner entertainment comprising dancing, singing and a skit.
Day-3 began with an early start at 5:30am with bird watching followed by a visit to the Waghai Botanical Gardens and the Government Saw Mill, where the children were shown how to make teak wood and bamboo furniture. A train ride to Kevdi, adventure rope activities, a night trek and conversations by the camp-fire after dinner concluded the exciting day. On Day-4, the children learnt about a solar cooker, solar barbeque (or a bazooka) and honey-bee harvesting. Late evening rafting and spending the night in tree houses was the highlight of the day and the camp!
On the last day the children excitedly witnessed fish farming, feeding the fish, enjoying bullock cart rides, while taking in the sights of the village. The campers learned how to make vermicompost (organic manure) by earth worms and grafting of plants. After a fun and interactive game of kho-kho and sharing their experiences, the happy campers said goodbye with a heavy heart – having made new friends, learned many new things about nature and the environment, feeling a little more connected with our community.
One of the most heart-warming and connected activities organised annually by WZO Trust Funds, the Annual Summer Camp was indeed a great success! Kudos to the team in Navsari for a fabulous job!
Latest posts by PT Reporter
(see all)