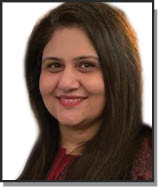 Dear Readers,
December is always an interesting time of the year – it's a mix between the buzz and excitement of all the festivities, navjotes, lagans… and yet, it's also a time of personal reckoning, as we look back at the year gone by. Some of us sheepishly chuckle (or sulk) at those untouched or abandoned resolutions that 2019 was supposed to deliver, while others give themselves a pat on the back for seeing them through. In either case, there's always so much to be grateful about – for ourselves, our family, our friends, our community… and the world at large that we live in.
But more than what was and what could have been, December symbolizes readying up for another, new orbit, a new year – yet another chance to wipe clean that slate and write a new page which could go on to highlight the best chapter of your life! In fact, numerous studies have conclusively revealed a tested practice of helping you realize your life goals, in three steps. First, you need to write down your goals – à la the lost art of writing with pen and paper, not keying things in your phone or computers – in a dedicated journal. The second step is to visualize, as vividly as possible and with focused imagination, the attainment of these goals. And step 3 calls for you to persistently read the written goals and practice visualization, multiple times daily, especially on waking up in the mornings and just before sleeping at night. These have truly been known to work.
The disclaimer, of course, being, that these tested methods fortify your ability to realize those goals – after all, you don't wake up ten pounds lighter simply coz you read a great book on weight loss! As the saying goes, "God gives us the ingredients for our daily bread, but he expects us to do the baking!"
Have a lovely weekend!
– Anahita
Latest posts by Anahita Subedar
(see all)