On 4th June, 2022, WZO Trust Funds organized a one day trip to the famous Statue of Unity, for a total of 40 Zoroastrian children, between 10 and 17 years of age.
28 boys and 12 girls, along with 3 Trustees and 4 volunteers travelled together and had an enjoyable day, which started at 5:45 am with a bus trip from Junathana Circle, Navsari. All the children donned WZO Trusts caps and were provided individual identity cards for safety. The children enjoyed the journey singing and dancing, cracking jokes and relishing a tasty breakfast.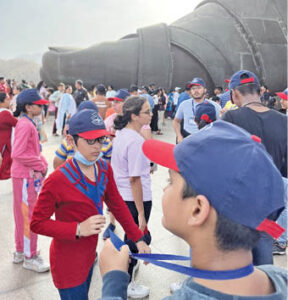 On reaching the destination, they participated in several fun activities like the Jungle Safari, the Sardar Patel Zoological Park and the center of attraction being the Exotic Animals and Birds section, where beautiful birds were seen flying freely within large dome areas. They also visited the valley of flowers and unity glow garden. They were all thrilled on being able to closely observe the gigantic statue whch is 182 meters (597 feet) tall and were overjoyed when they reached the 45th floor, the chest area of the statue which provided a splendid view of Sardar Sarovar Dam on one side and the crystal clear flowing waters of Narmada river, on the other.
On their return journey, they enjoyed a delectable dinner at Ankleshwar. The children thanked Dinshaw K. Tamboli, Chairman – WZO Trusts; his lovely wife – Bachi aunty, and all trustees and volunteers for organizing this wonderful trip. It was indeed an exciting and enriching day for the children, who look forward to many more such educational trips in the future.
Latest posts by PT Reporter
(see all)