Binaisha M. Surti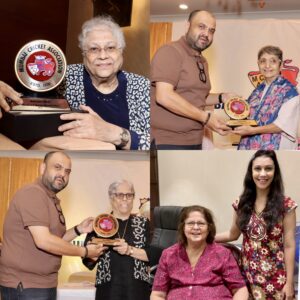 Every great achievement is the result of dedication, hard work, sacrifice and faith. 50 long years… this indeed is one of the greatest stories of women's cricket in India. Walking down memory lane and revisiting history… officially women's cricket in India started when Mahendra Kumar Sharma, Founder Secretary registered the Women's Cricket Association of India (WCAI) under the Societies Act at Lucknow, in 1973, under the Presidentship of Begum Hamida Habibullah. The first women's Inter-State Nationals were later held in April 1973, at Pune, with three participating teams – Bombay, Maharashtra and UP.
The first ever women's Bombay (now Mumbai) team changed the dynamics of being involved in the sport, winning the final of the first National Women's Cricket Championships, making history and paving the way for future generations to follow. Back then, there was no glitz and glamour. In fact, these stalwarts defied the odds and dared to dream… being extremely passionate about cricket.
The magnificent Bombay victorious team included four Parsi legends – former Captain of the Indian Women's Cricket team, recipient of the Arjuna Award and Padma Shri – Diana Edulji; former India Cricketer – Behroze Edulji; former Bombay and Albees team Captain – Rashna Vaid; and cricketer Silloo Medhora, whose valuable contributions spoke volumes. Even today, these great personalities recall details of that extraordinary event, as if it took place just yesterday!
The final was played between teams Bombay and Maharashtra. Bombay had the upper hand, winning the match by 10 wickets, making heads turn and take notice of this historic feat. 25 over matches with two innings each, were played in April 1973. Bombay won the toss, put Maharashtra to bat. In the first innings, Maharashtra were all out for 55 in 23.2 overs. Their skipper, Shyama Lunkad top scored with an unbeaten 23. Left arm pacer, Behroze Edulji bowled impeccably well and snapped up three wickets. While her sister, Diana Edulji also took three key wickets. Bombay, in reply, finished with 75-5 in their 25 overs. Shobha Pandit smashed 19.
During the second innings, Maharashtra managed 52-4 where Kalpana Paropkari made 23. Yet again, the Edulji siblings were on top of their bowling game – Behroze grabbed 2 wickets and Diana, one. Needing just 33 runs for a win, Mumbai finished the game easily achieving the target in just 9.5 overs, on 28th April, 1973, as Shobha Pandit and Meena Thakkar remained unbeaten on 12 and 15, respectively. Enigmatic leader and the ever so talented Rashna Vaid ensured that her team outperformed their opponents in every department. Bombay's Shobha Pandit won the best allrounder. Spinner Diana Edulji won the bowling honours, Meena Thakkar won the best batter while Kalpana Paropkari won the best fielding prize.
More recently, on 30th June, 2023, Mumbai Cricket Association (MCA) felicitated Bombay's 1973 women's team, the first to participate in women's National Cricket Championships, and celebrated its 50th year milestone by awarding them with mementoes and cash prizes. Fate brought all four Parsi women cricketers together as they started playing for the "Albees" ladies cricket team at Cricket Club of India (CCI), headed by the very enthusiastic and passionate, late Aloo Bamjee. The great Mrs. Bamjee was the major reason behind women's cricket in India. Back then she sent out circulars to schools and colleges inviting women to come forward and play the sport.
The famous cricketing sisters, Diana and Behroze Edulji, being cricket enthusiasts read the circular and went on to give batting, bowling, and fielding tests. They were approved and joined the team. Nets at the CCI were held on Wednesdays and Saturdays. The Bombay teams first bunch of women cricketers were indeed a special bunch, supremely talented who always played for each other, gelling well as a team. It was an honour for the Edulji sisters to represent the first Bombay team. Their family was their biggest support system all through their cricketing careers.
Facing hardships, travelling unreserved in trains… everything was spent from their own pockets including paying for the kit. But their passion for the sport kept them going. At the end of the day, walking onto the field in white trousers and tops was a magical feeling for both. Mrs. Bamjee travelled with the Bombay team for the first National Championships at Pune in 1973. The tournament started with the league stage and then top 2 teams Bombay and Maharashtra played the finals, shared Behroze. A memorable incident that Behroze still laughs about was when former Bombay cricketer Radhika Kothari felt the heat during the final. To cool herself down, she put the outer layer of a watermelon on her head, that left the entire Bombay team in splits on the field! One should always have the passion to follow their dreams, because nothing is impossible, concluded Behroze.
Former Bombay captain – Rashna Vaid would attend cricket matches as a young child, since her father and uncles were good cricketers. According to Rashna, Mrs. Bamjee was strict but also very kind. Initially, she would take their gloves home, wash it for them and get them back the next day along with sandwiches, which the girls had after training. Nearly 40 plus talented cricketers represented the Albees side. Rashna's talent awarded her the captaincy of the 'A team', and later Bombay. She was a good batter, fielder, and part time bowler, and quite athletic.
Always calm and composed, Rashna credited her outstanding team for all the successes and laurels achieved at the first National championships 50 years ago. The four Parsis that found a place in the Bombay team of 1978…including herself, Diana, Behroze and Silloo shared a great relationship and continue being thick friends. It was a nostalgic feeling when some team members met for the MCA award function, chatting away for hours together, recalling their good old days of cricket. She shared how today's generation of women are so privileged to have the best of everything. Women cricketers back then never let the lack of protective gear like helmets and shin guards hamper their game.
A keen cricketer since her younger days, batter Silloo Medhora always waited for someone to start women's cricket. She thus jumped into the frame when Aloo Bamjee took the plunge. Since her uncle worked at the CCI, during her formative years, he would put her in the children's stand and she'd watch matches from there. It was indeed a great feeling for her to be a part of the winning Bombay team of 1973. She always had the feeling that Bombay would win the final due to its abundant talent. Her greatest thrill was to walk out in the middle and bat. She loved playing good shots along the ground and her favourite was the cover drive. Unfortunately, due to bad health, she was unable to attend the MCA award function but was grateful that the team was recognized for their efforts.
Compared to earlier, there has been a huge change in the development on Indian Women's Cricket, with recently the Women's Premier League 2023 becoming a huge success. Back then, the entire team had only three pairs of pads – two were used by the batters and the third by the wicketkeeper. The pads back then had only clips and no velcro attached. Once the batter was out, they had to come running in and give the pads to the next girl. It was a tough task but they all did it with a smile on their faces, for the love of the game. She concluded saying that she still meets some of the current generation of players at the CCI, sharing knowledge and stories of her time.
Back then, women cricketers achieved the unimaginable. It is a priceless achievement, walking down memory lane with all our Parsi stalwarts of women's cricket. Their mindsets, competitiveness, strong-willed spirit, great passion make them stand out even today. On behalf of the community, Parsi Times congratulates these stalwarts on their 50th year milestone!
Latest posts by PT Reporter
(see all)