Often, we travel to places not because we have chosen them, but they seem to have somehow chosen you! Now Rajasthan has often piqued my curiosity… an ancient land filled with antiquity and tales, historical figures, valiant Rajputs, heroic Maharajas and noteworthy queens. It's a place that captures the quintessential spirit of India, with its vibrant colors, deep roots and sparkling personality. It's a place of sand and dunes, palaces and forts, monuments and museums. It's a place of robust people and strong personae. There are almost too many spectacular sights and experiences in Rajasthan. So, when the opportunity presented itself, thanks to the initiative and enthusiasm of a good friend, I couldn't be happier! It was meant to be a luxurious retreat from all the chaos and disarray we call Mumbai. The stay was at the majestic Umaid Palace Hotel Jodhpur, and wild horses or camels weren't going to keep me away!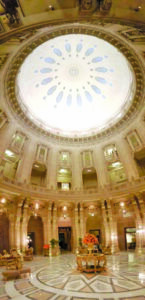 Jodhpur nestles at its edge, the Thar desert. The city is recognized as India's 'Sun City' for its year-round sunny weather or as 'Blue City' due to the distinctive color of its houses especially in the old part of the city. There's loads you can do… simply amble along the lanes getting a feel of the place or walk through the famous Sadar market to pick up famous mementos like antiques, bandhani, footwear, red chilies and traditional wear. Of course there was no missing one of Rajasthan's largest and best-preserved forts – the Mehrangarh Fort, which we paid homage to and visited its interesting museum inside. The walls reeked of history and culture, the past came alive whispering tales of battles and love, with its hidden passages and dark tunnels… the ramparts and cannons still intact, as you walked around the backdrop of the setting sun, taking in its ancient glory and majestic stance.
Set across 26 acres of land, comprising 15 acres of gardens, the palace consists of a throne chamber, a Durbar Hall to meet the public, a vaulted banquet hall, private dining halls, a ballroom, a library, an indoor swimming pool and spa, a billiards room, four tennis courts, two marble squash courts and beautiful long passages. The interior central dome sits above the sky-blue inner vaulted dome, which rises to 103 feet in the interior part. Part palace, part luxury hotel and part Museum, it exudes royalty – focusing on the 20th century history of the Jodhpur royal family – majestic, grand and awe-inspiring… an architectural marvel.
The Royal Residence: Umaid Bhawan Palace was the last royal palace built by Maharaja Umaid Singh, before the Independence of India. With its foundations laid in 1929 and completed in 1943, it's one of the world's largest private residences. The outer structure is made of the Chittar sandstone, while the inner architecture boasts a combination of Indo-Saracenic, Classical Revival and Western Art Deco styles, designed in Makrana marble and Burmese teak wood, with exotic frescoes painted by polish artist JS Norblin.
Luxury Heritage Hotel: In 1971, Taj Hotels took over the management of a part of the palace, converting it into a luxury heritage hotel, with 64 accommodations, compromising 25 rooms and 39 suites, categorized as Maharani Suite, Maharaja Suite, Royal suite, Regal Suite and Deluxe Rooms. The ostentatious rooms have retained the historic charm, offering picturesque scenes of gardens with peacocks strolling. The dining, stay and overall experience is a feast for the senses – the Taj Umaid Bhawan Palace is a luxury experience in modern times with glories of the past royal era.
This luxury hotel is on the covetous wishlist of several A-Listers, chosen by many celebrities for grand occasions like and wedding receptions, including Liz Hurley and Arun Nayar, Priyanka Chopra and Nick Jonas. The Palace Hotel overlooks the capital of Jodhpur and is a 15-minute drive from the airport. Attractions like the Clock Tower Market, Mehrangarh Fort and Jaswant Thada monument are easily accessible, within 9 kms. A unique 'Champagne Museum Walk' invites guests to admire the fine collection of Victorian and Edwardian antiques with a glass of champagne in hand!
The Museum: The Museum has exhibits of stuffed leopards and a large symbolic flag given to Maharaja Jaswant Singh by Queen Victoria in 1877. There's the classic car collection of the Maharajas on display in the garden in front of the museum.
But did you know that this grand palace was actually built for a noble cause rather than an extravagant symbol of royal luxury? In 1920, famine-struck Jodhpur (then Mewar) had its troubled folk seeking help of its then ruler Maharaja Umaid Singh (grandfather of the present Maharaja). He generously commissioned a new palace to give employment to his people. This expensive venture, employing the needy was not only for a beautiful private residence but became a became a beacon of hope for the people of Mewar during troubled times – the new icon of Jodhpur soon, replacing the Mehrangarh Fort.
Umaid Bhawan Palace is one of India's last remaining grand palaces – the marvel built on Chittor Hill, southeast of Jodhpur, by Maharaja Umaid Singh of the Rathore Dynasty. The youngest palace of India, it is an architectural splendor, retaining its legacy of hospitality while maintaining its royal traditions – a true royal experience!
Latest posts by Veera Shroff Sanjana
(see all)