The World Zoroastrian Organisation Trust Fund (WZO) held its sixth annual Summer Camp, organised by the Navsari Local Committee, at Bai Dosibai Kotwal Parsi Orphanage, Navsari, from May 3 to May 8, 2016. Fifty Zoroastrian youth between the ages of 7 to 14 years, participated, including thirty boys and twenty girls from all over India.
The daily activities commenced with prayers at the Atash Dadgah of the Orphanage at 8 am. On day one, aerobics activities conducted by coach Bharat Reshamwala from Surat drove the campers into dancing frenzy. Drawing and sketching was taught to various age groups by Jamshed Jilla, a local artist. 'Fun and Learn' was conducted to improve their hold over the English language by Gulshan Vandriwala via delightful games.
In the 'Art and Craft' activity, Shweta Shah shared her knowledge of creatively transforming waste material into useful articles. Parsi historian Marzban Giara spoke on religion and entertained campers with Parsi songs. Pearl Contractor, event management professional, took over day two, sharing various life skills and personality development activities.
On 7th May, the stop was 'Eco Tourism Camp Site' at Soldhara village in Navsari District. The campers learnt about honey bee harvesting, nature preservation, medicinal and bonsai plants and different types of snakes by the nature-loving couple, Ashok and Ashmita Patel and their team.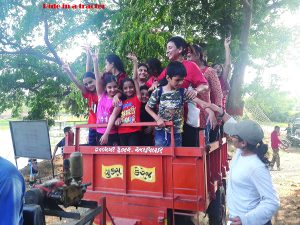 Campers enjoyed bullock cart and tractor ride and boating. After dinner, the camp fire was lit and performances were given by children. The morning began with bird watching with Dipakbhai Patel. Before having lunch, all campers enjoyed swimming in Khrera River, followed by a game of Housie and a visit to the Gazdar Agiary of Chikhli for a humbandagi. A send-off party at Sheetal Hotel, Navsari marked the end of the fun-filled, informative and entertaining Summer Camp.
The campers expressed a vote of thanks to the Trustees, superintendent and staff of Bai Dosibai Kotwal Parsi Orphanage for the gratis use of their facility; Sunnu Kasad for the meals, Paris Bakery (Mumbai) for confectionery items, Percy Surti for free bus service; Zinobia Ambapardiwala, Parvana Vandriwala and Yashita Tamboly for volunteering. Kudos to Dinshaw and Bachi Tamboly for providing the motivational and logistical impetus and main stay of all WZO activities (Navsari Local Committee)!
Latest posts by PT Reporter
(see all)