Based in Surat, Behnaz Todiwala is the Art Director and Founder of the globally renowned Utkarsh Dance Academy LLP, dedicated to preserving India's cultural heritage through Classical and Indian Folk dances, for the past 25 years. A Bharatnatyam connoisseur, staunchly committed to the practice for 39 years now, Behnaz Todiwala is a Gold Medallist in BA (Visharad) and MA (Alankar) in Bharatnatyam, making her the first Parsi woman in Gujarat and the third Parsi pan-India in the field of Bharatnatyam. She has been felicitated with many prestigious awards including 'The Parsee Pragati Mandal Award' (1988); 'Rashtriya Kala Kendra Award' (2005); 'Ujas Award' (2002); 'Kerala Kalamandalam Award' (2015);  'Gajera Trust Award' (2016); and 'The Kala Ghoda Arts Festival Award' (2017 and 2016), for her outstanding contribution in the field of Bharatnatyam. Behnaz has trained over five thousand, with most of her students performing flawlessly across local, national and global platforms. She started learning Bharatnatyam from the age of 4 from Gurus Neelaben and Reenaben Raval of 'Felicity Art', Surat and continues her journey under Guru Sivaramakrishnan.
In 1994, she founded Utkarsh Dance Academy – an ISO 9001:2015 certified and government registered dance academy, globally recognized as one of India's premier institutions for learning Indian Classical Dance, Bharatnatyam, Folk Dances and Bollywood Dances. Having trained over five thousand students across its four thriving branches in Surat City, Utkarsh Dance Academy LLP is an active member of 'CIOFF' India and 'European Association of Folklore Festivals (EAFF), both official partners of UNESCO, with over a thousand of its students having participated in numerous international youth and folk dance festivals monitored by UNESCO, in countries like Spain, Italy, China, Malaysia, Austria, France, Belgium, Greece, Korea, Taiwan, USA, Canada, Portugal and Switzerland. This year, Utkarsh will participate in the world's largest children folklore festival, 'YiIan lnternational Children's Folkore and Folkgame Festival' in Taiwan.
Parsi Times shares an exclusive interview with Behnaz Todiwala…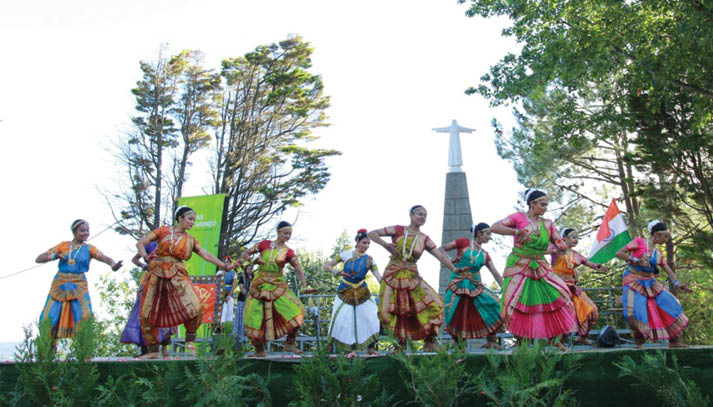 PT: Tell us more about your good self…
Behnaz: I was born in a middle class Parsi family in Surat. Being a hyper and restless child who couldn't focus for too long on any single thing, my mother registered me in Surat's only Bharatnatyam Academy, Felicity Art, run by my Guru, Smt. Neelaben Raval, in 1979, to channelize my energies in the right direction, alongside my convent education. Being a Parsi I am an ardent follower and a firm believer in Behram Yazad Mushkil Asaan and our Atash Padshah. I also believe in the divinity of Lord Shiva through my connect to the art of Bharatnatyam Classical Dance since the last 40 years. I firmly believe that experience teaches you more about life than any educational institute ever could. Dance to me is the purest form of devotion. As an artist, I believe you are always on a journey to discover and learn more. Through dance, I share myself with the audience – it gives me the unique opportunity to cultivate ideas into those who normally don't question the status quo.
PT: What was the vision and aim behind establishing Utkarsh Dance Academy?
Behnaz: As I hail from a middle-class family background, it has always been important for me to give back to society. I chose to channelize my expertise in classical art forms by establishing Utkarsh Dance Academy, LLP in Surat in 1994. Utkarsh's evolution as an Internationally renowned Institution for learning Indian Classical dance: Bharatnatyam, Folk and Bollywood dance is a reflection of my aesthetic vision and my team's contribution.
At Utkarsh students have the opportunity to learn Government certified courses in Indian Classical Dance-forms including Bharatnatyam and Traditional Indian Folk; as also 'Indian Nautanki' (Bollywood); 'Natyaratna' (Indian Classical Presentation), as well as Art Study Tours and Cultural Exchange Programmes. For twenty-five years, we have consistently maintained the quality of our programs and our commitment to the Classical Arts. At Utkarsh, we believe in practical education and take young dancers on Art Study Tours to Kerala and Chennai to reputed Institutions like Kalakshetra and Kakamandalam to intricately understand classical art. As a result, Utkarsh is the only institution in Surat and most probably even Gujarat, where a Parsi Guru leads a group of classical dancers to perform at the most prestigious national and global festivals, like the inauguration ceremony of Festa Di Diu in the presence of the respected President of India, Shri. Pranab Mukherji; Natyanjali Dance Festivals, Chennai and at Guruvayur Temple in Kerala.
PT: What are the benefits of learning Classical Dance forms?  
Behnaz: Classical art forms help in maintaining balance, stability of mind and inculcating discipline. When a person dances with all their passion, dance becomes devotion. It helps you understand yourself on a spiritual level. I believe it makes life simpler – more importantly, it becomes your second nature.
PT: What philosophy do you go by? Who is your inspiration?
Behnaz: My philosophy is very simple – live and let live. If you get support in achieving your dreams, that's good, but if not, then still go ahead and try to achieve what you want, with renewed energy. I have imbibed the values of our ancestors, just like the 'sugar in milk' story, and have incorporated myself in Indian culture. I'm a proud Parsi practicing India's ancient Classical Dance form – Bharatnatyam. My primary inspiration has always been my late mother, for her great inner strength and grace, complemented by her immense compassion and her power to transform ideas through art forms. Her vision has helped me transform this Academy to reach greater heights. My endeavor to do my best and give my best as a Guru to all my students. The contributions of my mother-in-law, who is presently 81-years-old, have also been some of my greatest inspirations and support.
PT: How has the unconventional experience of a Parsi woman, practicing and teaching Indian Classical dance, been?
Behnaz: It's been an immense honor for me to be the only Parsi woman in India today teaching Bharatnatyam to over 800 students from all walks of life, every year! Art is a journey with no destination, and at Utkarsh we believe that our academy offers the opportunity to reach a broad spectrum of talent and support to the arts community.
PT: What are your future plans for Utkarsh Dance Academy?
Behnaz: We believe in creating opportunities and solving all obstacles that come along the way –  as we have been doing in the last twenty-five years. My team and I believe in four aspects – Hard work, Perseverance, Discipline and Dedication – these bring brightness in one's life, with or without the support of others.
PT: What message would you like to share with our readers?
Behnaz: I am a firm believer in empowering women through different art forms. I believe it is imperative that we change the mindset of girls since childhood, so they achieve social and economic empowerment. Art has the power to shift mindsets and I will continue doing the same through my academy. I would like to take this opportunity to humbly request my fellow Parsi community members to support arts and humanities in whichever way you can. Your philanthropic gesture will assist us in promoting talented dancers, make them self-sufficient, and ensure the nurturing of India's future creative talent. Let us all join hands to keep the art and culture alive and resounding.
Latest posts by PT Reporter
(see all)