My friend of several decades, Arnavaz Rusi Tata, also known as the 'Twinkle-toes Arni' is a young lady of eighty years, or as the invitation to her 80th Birthday bash mentioned, 'Arni is 18 with 62 years of experience!' Arni confirms the adage that aging is a must for all, but growing old is a choice. She simply refuses to grow old! Her joie de vivre is indefatigable as she goes dancing through life.
One may wonder who is this Arni Tata – especially the modern generation. Arni was born Arnavaz Entee on 14th June, 1939, to Jerbanoo and Sorabji Entee. Sorabji was quite well-known as the teacher of Bharda New High School, situated next to the Capitol Theatre at VT.  Arni was one half of the duo, the Entee sisters, who used to wow audiences way back in the mid-fifties.
Arni grew up with her elder sister, Tehmi, and her brother Jehangir. She studied in The Princess High School at Lamington Road, quite near the place where she lived. Though academics was not her strong point, she was most passionate about dancing, and right after her Matriculation, she started taking lessons in dancing. Not quite so simple. Coming from an orthodox family, it was not possible for her to get an 'ok' from her preceptor papa. She started giving tuitions to school children not only to finance her passion for dancing, but also as an excuse to be out of the house for several hours every day!  Eventually her father got to know about Arni's passion for dance and of her escapades. Arni, in turn, learnt that her dad was not so orthodox after all!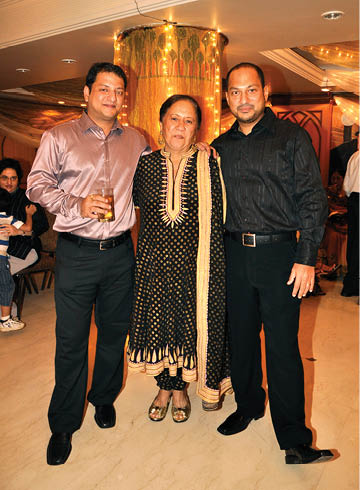 Arni and Tehmi were quite well-known as the Entee sisters. Their shows were hits and attracted a good number of classical dancing connoisseurs. Arni's forte was Bharatanatyam but she excelled in Folk dances, and Raas-Garba too. Tehmi got married and settled down in Kolkata or what was then, Calcutta.
Arni married the very eligible Rusi Tata, a mechanical engineer, an expert on Xerox machines and complex movie cameras. The couple was blessed with two sons. A lively soul, Rusi passed away almost thirty years ago and Arni took up the task to see that her sons were well settled. And that she did very well. She mourned for her beloved Rusi but even such bereavement could not break her indomitable spirit…. Arni has now attained the status of a Bharatanatyam guru. She has trained many girls for their Arangetram or the maiden solo performance of students after years of intense training, signifying the completion of formal training. Many of her students are now exponents of the classical Indian dance form, Bharatanatyam. Danseuse Punita Hirwani has been a protégé of Arni Tata.
Arni has a very friendly, happy, kindly disposition. She loves partying. If there's music playing, Arni's feet take a life of their own and simply start dancing! This writer has also shaken his leg with Arni. "Tope na maro, Darabsha!" (that's my madam editor. She can't believe I could do a step or two just like Fred Astair). "So step up your writing if you call it that. I have a deadline to meet." (Darn, that's madam editor again.)
Arnavaz Tata's eightieth birthday saw her at her liveliest. Whilst my old acquaintances – Tiku Talsania and I gulped the golden nectar in honour of yet another great, Dinyar Contractor, we saw Arni thumping away on the floor, swaying her hands gracefully, trying to tell something, God knows what, for I am a dodo when it comes to Bharatanatyam. But who cares, it was beautiful and a sight for sore eyes. Arni was 18 again! She was still dancing when my wife and I bade her adieu with a promise to dance with her on the 80th anniversary of her 20th birthday!!
Latest posts by Dara M Khodaiji
(see all)