Thirty young and talented students from Surat's Utkarsh Dance Academy LLP, represented India at the 'Yilan International Children's Folklore Festival', which was held in Taiwan from 5th to 16th July, 2019. Under the guidance of Behnaz S. Todiwala, Director of Utkarsh Dance Academy LLP since last 25 years, these dance enthusiasts, aged seven to fifteen years, did India proud at the World's Largest Children Folklore Festival, which is a CIOFF Festival – An Official Partner of UNESCO.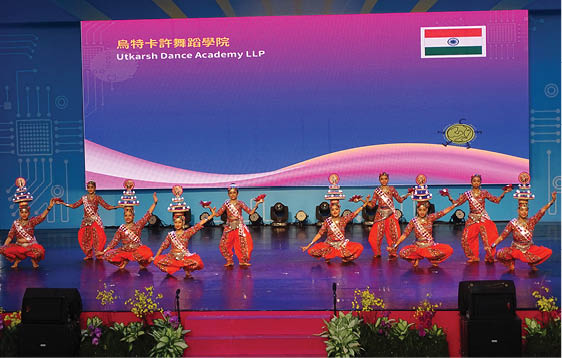 These talented young artists performed Bharatnatyam; Classical dances like Pushpanjali, Allaripu and Shiva Tandava; as also various Indian Folk Dance forms including the Bhangra, Dangi, Lambadi and Ghodi – all on live music. Other countries which participated in this grand Folklore Festival included Poland, Slovakia, Mexico, Czech Republic, Ukraine and Russia.
Speaking to Parsi Times, Behnaz Todiwala said, "It is truly a matter of great pride for us to represent India on such a huge platform, to an audience in excess of three lakhs, who graced the show and always gave us a standing ovation and applauded these young artists of India! Our Indian remarkable performers were also greatly appreciated through international press coverage in the Taiwanese Media, furthering our sense of pride in being Indians!"
The participants were also provided the opportunity to know more about Taiwanese Culture – visiting various Taiwanese Temples, community centres, old age homes and art museums, which helped enhance their knowledge about its culture and humanity. They also got to experience different cuisines!
Based in Surat, Behnaz Todiwala is the Art Director and Founder of the globally renowned Utkarsh Dance Academy LLP, dedicated to preserving India's cultural heritage through Classical and Indian Folk dances, for the past 25 years. A Bharatnatyam connoisseur, staunchly committed to the practice for 39 years now, Behnaz Todiwala is a Gold Medallist in BA (Visharad) and MA (Alankar) in Bharatnatyam, making her the first Parsi woman in Gujarat and the third Parsi pan-India in the field of Bharatnatyam. The recipient of numerous prestigious awards and felicitations worldwide, Behnaz has trained over five thousand pupils at the Utkarsh Dance Academy that she founded in 1994 – an ISO 9001:2015 certified and government registered dance academy, globally recognized as one of India's premier institutions for learning Indian Classical Dance, Bharatnatyam, Folk Dances and Bollywood Dances.
Latest posts by PT Reporter
(see all)