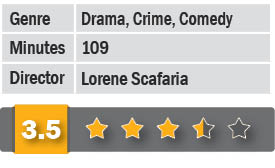 When a horde of scantily clad women descend (literally!) upon a guy, it could mean one of two things – either the guy is extremely good looking or well-heeled and gullible. 'Hustlers', scripted and directed by Lorene Scafaria, who had chanced upon an article by Jessica Pressler in the New York Magazine, lays bare the mushy goings-on in the world of Wall Street and strip-tease joints. More of the latter of course.
It's 2007: Ramona (Jennifer Lopez) and Dolores (Constance Wu), who's acquired the stage name of Destiny, are pole dancers in a posh strip-tease club frequented by the wolves of Wall Street who shower them with attention besides the mandatory dollar bills. Come 2008, and the Wall Street-crash-effected recession has dented the fortunes of the strippers. Ramona and Destiny enlist the help of Mercedes (Keke Palmer) and Annabelle (Lili Reinhart) to drug the clients – each of them a potential Santa Claus – and skim chunks of cash off their credit cards. The well planned racket results in recruiting more girls till it resembles a mini IPL team, with the girls dabbling in designer clothes, handbags and shoes from their ill-gotten wealth.
Cinematographer Todd Banhazi adroitly focuses on the world's most written about derriere and though Lopez's character is central to the plot, the film belongs to Wu. The film unfolds in the form of Wu's interview to the investigative journalist Elizabeth (Julia Stiles), replicating the actual turn of events. Kayla Emter's editing is taut although the climax seems a bit rushed and would remind the viewer that the words of the opening song 'Criminal' – 'I've been a bad, bad, girl' – are not just restricted to the past tense.

Latest posts by Hoshang K. Katrak
(see all)