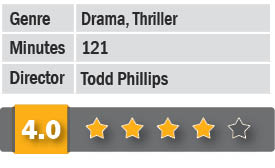 "For my whole life, I didn't know if I even really existed," – the reader would be forgiven if even a glimmer of likeness was to be found with similarly titled films! Arthur Fleck (Joaquin Phoenix) is a part-time clown, part-time stand-up comedian, with minimal success in the latter vocation, but who's grown up idolising Murray Franklin (Robert De Niro), a late-night TV talk-show host.
Set in the early 80s, in the fictional city of Gotham (with thinly veiled references to New York and New Jersey), the protagonist lives with his ailing mother. Early in the film, we are shown Fleck getting beaten up by hoodlums for a paltry reason. His reactions and emotions set the tone for the rest of the film. Fleck also suffers from a disorder of laughing maniacally and uncontrollably for no apparent reason. At times, one gets the impression that logic is sacrificed for the sake of sub-plots – Brett Cullen as the billionaire Thomas Wayne with a secret past and Zazie Beetz as Sophie Dumond – Fleck's neighbour and love interest. Also, the Scorsese fan is likely to draw inferences from his classics, 'Taxi Driver' and 'The King of Comedy'.
Directed by Todd Philips (Starsky and Hutch and the Hangover films) and with Scott Silver (The Finest Hours) as his co-writer, this film could break the jinx for Joaquin Phoenix, who, with some unconventional dance moves and a stupendous performance, has had to remain content with three Academy nominations. Without qualifying for a spoiler alert Joker, which won the Golden Lion at the Venice Film Festival, has little to do with clowning. And that's no laughing matter!

Latest posts by Hoshang K. Katrak
(see all)