The 173rd Salgreh of the Seth Nusserwanji Hirji Karani Agiary's Atash Padshah Saheb took place on 2nd February, 2020, at Cusrow Baug in South Mumbai. Numerous Zoroastrians attended the prayers and celebrations at the beautifully decorated Karani Agiary, with Panthaky Er. Yazdi Nadarsha Aibara who has dedicated over three decades of his life in service of its holy fire.
The morning commenced with a Havan Geh Machi, followed by a Jashan Ceremony by the trust, with another evening Jashan by Huma Anjuman. A minute's silence was observed in memory of Karani and Wadia families. Panthaky Aibara performed the Humbandagi. Trustee Homi Ranina gave the welcome note thanking eminent personalities – Er. Dr. Parvez Bajan and Vada Dasturji Keki Cowasji Ravji MeherjiRana for gracing the occassion.
Er. Dr. Bajan – eminent author on the Zoroastrian religion, Head priest of Seth B.M. Mevawalla Dar-e-Meher, Principal of Sir J.J Zarthosty and Mulla Firoze Madressas and Trustee of Mumbai's Athornan Mandal – shared an inspiring discourse titled, 'Across the Arabian Sea…but for the Faith and Unity', stressing on the need for global faith and oneness, and keeping the audience rapt to the history of our religion and the genesis and proliferation of our community in India. He was felicitated for his great contributions.
Homi Ranina then introduced Chief Guest Vada Dasturji Keki Cowasji Ravji MeherjiRana, who completed his Navar-Martab at Navsari's Vadi Daemeher and has served as Panthaky of Cama Baug Agiary (Grant Road) since 1987.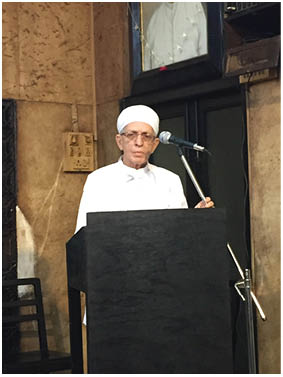 In his speech, titled, 'Significance of Fire and Atash Padshah Saheb', he shared valuable insights into the significance of the Atash Padshah and the power of prayers, emphasizing on good thoughts, good words and good deeds and the importance of wearing the Sudreh-Kusti to follow our religion in the right manner. He was felicitated for his tremendous contributions, along with wife, Roshan Keki Ravji.
Managing Trustee, Bomi Hansotia spoke on the need to stay together as a community in order to prosper. Panthaky Er. Aibara accentuated our responsibility to take the religion forward by taking time for God and prayers and teaching and moulding children in the right way to follow our religion. Noshir Bulsara then congratulated and thanked all the speakers for gracing the occasion. The evening concluded with special thanks given to Trustee – Homi Ranina, Managing Trustee – Bomi Hansotia, along with Noshir Bulsara, Mani Vazifdar, Nazneen Khurshed Vajifdar, Ervad Yazdi Aibara and Nergish Aibara for their dedication and efforts.
Latest posts by Binaisha M. Surti
(see all)