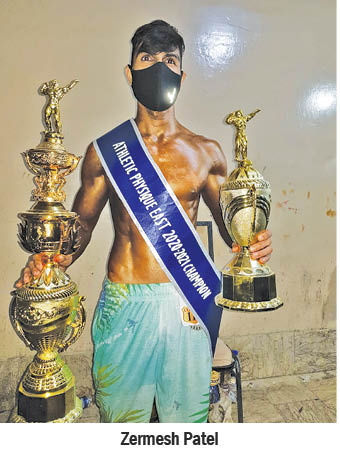 On January 24th, 2021, Karachi-based Zermesh Patel did the tiny Parsi community in Pakistan, and its larger counterpart in India and across the world, very proud, by winning the title – 'Mr. East Atheletic Physique' as well as securing third position in the category – 'Mr. East Model Physique', in the 5th Allama Iqbal Open Karachi Championship, held at the Shamsi Community Centre, at Shahra-e-Faisal in Karachi, Pakistan. What makes this achievement even bigger, is that 26-year-old Zermesh is the first Parsi ever, to enter this competition and win this title! He has now set his sights onto becoming the very first Parsi to win the title of 'Mr. Karachi 2021'!
A second year Law student pursuing his LLB from the University of London, Zermesh is the son of proud parents – Katayun and Jamshed Patel, and the second of four siblings, with elder brother Nauzer and younger sisters – Farezea and Shareez.
He is known for his calm temperament and for being an intelligent child who has always been focused, goal-oriented and determined to accomplish his goals – be it in his favourite race on the school sports day or in securing distinctions in his exams. Very loving and supportive towards his siblings and friends, Zermesh is ambitious and committed to achieving his dreams and soaring higher.
Speaking to Parsi Times, when asked about his mantra for success, he cites his favourite quote by John F. Kennedy – "Every accomplishment starts with the decision to try." Having completed his early education from Bai Verbaijee Parsi High School and currently studying Law, Zermesh plans to continue his academic journey in this direction and aims at becoming an example, "that we are not bound by a single achievement and can have realistic multiple goals in life," in his words.
Ketayun Patel, Zermesh's mummy, shares, "My grandparents hail from India and after partition, chose Pakistan to be their home, so we've all been born and brought up in Pakistan. Parsis in Pakistan have mostly migrated from here, in hope of a better future, especially the young generation, and as a result, just a few hundred Parsis are now residing in Pakistan and our Parsi Community here has been shrinking greatly each year. Zermesh wants to set an example by staying here and fulfilling his dreams as he believes that no matter what obstacles life throws at you, if you have the will, Pak Dadar Hormuzd makes it all possible, despite of all the odds!" Indeed!
Here's wishing Zermesh the very best for a bright and shining future. May he continue to bring pride onto the Parsi community in Pakistan and across the world!
Latest posts by PT Reporter
(see all)