– A Mark Of Respect, Love And Care For The Elderly –
.
The Parsi community is an ageing community and has a problem of providing reliable care at home. With an increasing number of young Parsi couples migrating abroad, the only option is to either rely on an unreliable servant or literally dump the aged person into old-age homes.  The elderly require care and compassion, along with respect. No senior, who has spent a lifetime creating and nurturing a home, would want to be shifted to an alien facility in their twilight years.
On 15th July, 2021, which marked 'National Youth Skill Development Day', Masina Hospital Trust launched a number of exciting new courses, which trains people in care-giving for seniors. These include:
I. The Geriatric And Dementia Care Health Care Assistant Course: This course is designed in collaboration with TISS (Tata Institute for Social Sciences) and Alzheimer's and Related Disorders Society of India and is supported by Rotary Club of Bombay Nischol Israni Foundation. [Course Eligibility: Age – 18 to 45 years; Education: Class XII Pass]
II. Geriatric Healthcare Aide
III. Home Care Aide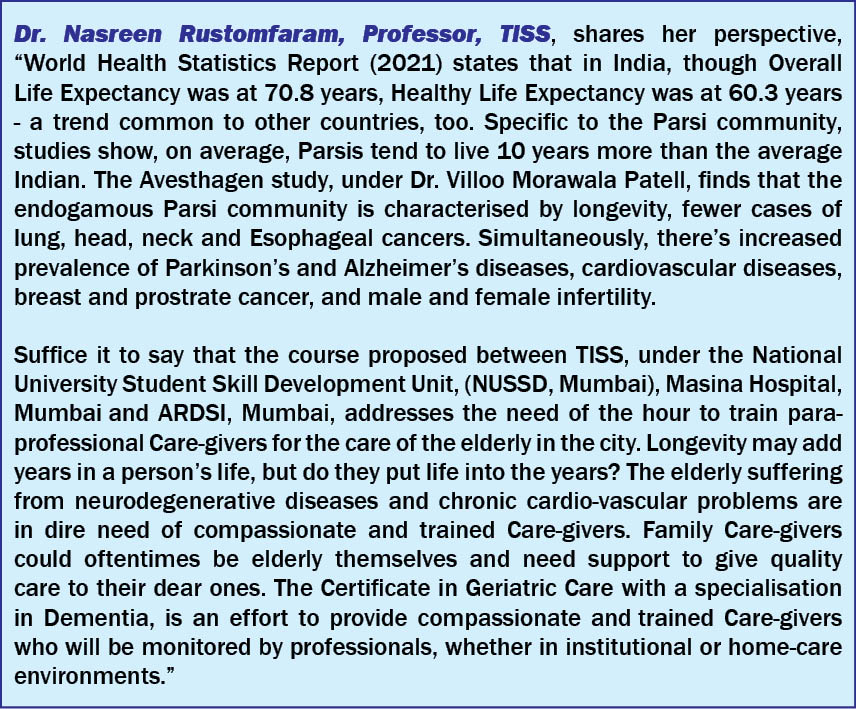 These are part of Mukhya Mantri Maha Aarogya Kaushalya Vikas Prasshikshan Karyakram. In the latter courses, we are partnered by Humanitarian Welfare Association Research Foundation. The second and third courses are government-sponsored and eligibility is Class X or Standard VIII pass; with age between 18 and 45 years.
Our endeavour, as a responsible healthcare organisation, is to ensure that we create a cadre of well-trained Care- givers who will be able to fulfil the role of providing safe and effective healthcare to the old, infirm and senile persons. The courses are designed with modules related to Gerontology, Nursing Care, Psychological Care, Physiotherapy, Occupational Therapy And Dementia Care. The Care-giver will be trained to maintain a log-book with detailed recording of vital parameters, alongside those related to diet, medication and any other health-care interventions. Regular check-ups, home investigations and physiotherapy can be provided on a need basis.
We urge community members to spread word among the society's colonies and Baugs about this course. Even those who are being taken care of by untrained Care-givers can avail of the training offered by Masina Hospital. The difference between the untrained and trained personnel makes all the difference between safe and humane care v/s care on sufferance.  To ensure quality of care, the hospital will send designated trained persons and will visit homes to create a proper home-care schedule. Further support will be provided on a need basis. 
India has a large youth population; the youth are considered its demographic dividend. The Covid pandemic and resulting economic slowdown has led to severe youth unemployment, which needs to be addressed urgently. Failure to do so will lead to unrest and frustration among the youth and a loss of the demographic dividend we value.
Despite India being known as a traditional society where the young take care of the old, this is changing rapidly. Increased urbanisation with the fast-disappearing joint-family support system, leaves the ageing population vulnerable, with not enough people to take care of them in an effective manner.
Most hospitals today believe in reducing the average length of hospital-stay to ensure rapid turnover and minimisation of hospital-acquired infections. In this context, well-trained home-care aide can bridge the gap between hospitalisation and home-care, effectively.
We have high expectations of this course and this will be our contribution towards solving some of the problems facing our city and country, during these difficult times.
Latest posts by PT Reporter
(see all)