– Appeal To Community Members To Support The Cause –
Every year a group of good Samaritans, popularly known as the 'Young Rathestars' from Dadar, Mumbai, who are committed to the welfare of the lesser privileged community members, reach out to provide help and support to poor Zarthosti families living in Mumbai as well as in the hinterland areas of Gujarat and Maharashtra, including the talukas of Mandvi and Mangrol (Surat) as well as around Ankleshwar and in the interiors of Gujarat, such as Ilav, Surali, Zankhvav etc. They offer help by providing these families with basic amenities, provisions, white goods, financing by way of interest free loans, etc. This annual tradition of charity by the Young Rathestars spans over three decades now, and they have not missed out a single year in service of our lesser privileged brethren, despite the challenges of the pandemic.
Living out the true essence of the illustrious Parsipanu trait of charity with the firm belief in the adage, 'Happiness to those who help others', this year, the Young Rathestars conducted their Annual Grain Distribution on 2nd October, 2021 at The Sorab Palamkote Hall, Mumbai. Over 450-500 poor and financially disadvantaged Parsi/Irani Zoroastrian families were provided food grains, pulses, tea, sugar, oil, toiletries, household items and linen, with the support of committee members and volunteers.
Spearheaded by our community's leading social service stalwart, Arnavaz Jal Mistry as its President, 'Young Rathestars' recently welcomed to its fold, the dynamic and multi-faceted Yasmin Mistry, known for her passion for community service as the head of Zoroastrian Trust Funds of India (ZTFI); and also as a successful entrepreneur. Yasmin joins Young Rathestars as its Secretary and will work alongside Vice President – Homiyar Doctor; and numerous other helpful committee members and volunteers.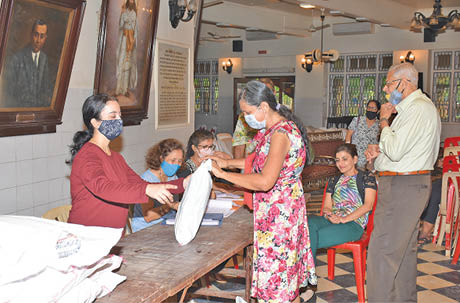 Says Young Rathestars President, Arnavaz Jal Mistry, "Young Rathestars has always endeavoured to reach out to the Parsi community and since years has been instrumental in providing support to the less fortunate, as one of the activities. It is our privilege to be able to help our less fortunate brethren. The past year has been especially difficult for them due to the Pandemic and they are going through a very challenging time. They need our help more than ever. I request all my dear community members to practice the true essence of being Parsi and kindly donate to this cause so that we can help our brothers in need. Every contribution makes a difference."
SUPPORT THIS NOBLE CAUSE!
To donate to this noble cause, kindly send in your cheques in favour of: 'YOUNG RATHESTARS' 
 Address: The President, Mrs. Arnavaz Jal Mistry, 802/A – Ekta Invictus, 68 – Dr. Ambedkar Road, Dadar (East), Mumbai 400014.
 For further details, call:
Arnavaz Mistry: 9821009289 /9137713817
Homiyar Doctor: 8693822722 / 9821384385  
All the committee members of Young Rathestars – Arnavaz Misty, Homiyar Doctor, Shiraz Guard, Pervin Pastakia, Persis Dubash, Cyrus Gazdar, Kersi Pooniwalla, Firooza Tachakra, Yasmin Mistry, Kashmira Khambata and Anahita Dhalla – thank all the donors for your generous donations. 
Latest posts by PT Reporter
(see all)