Allow us to introduce ourselves – Farohar Travels. Our story began a couple of years ago with one great idea – to organize perfectly crafted holidays and travel experiences for the discerning traveler. Being an emerging player in the travel market, we specialize in innovative, planned packages for escorted group tours, customized family holidays, destination honeymoons, and tailor-made holidays across India and abroad.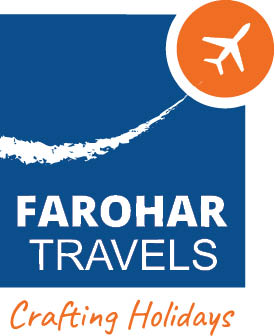 Our traveler-centric focus, on-site support and operational excellence has helped us carve a boutique niche in a market that caters to bundled holiday plans. Farohar Travels engages with you from your initial perception of a holiday. With our first interaction, we take the time to understand what you enjoy and what you dislike, so that we create a perfectly seamless holiday for you. Special dietary preferences? Multi-country adventure road trips? First foreign holiday? Destination anniversary? We build a hospitable, well-spaced itinerary for you with an eye for detail that is expected from us. We look after you from the moment you speak to one of our specialists, until after you have returned home. We'll be with you every step of the way.
It is testimonial enough that most of our discerning guests return to Farohar Travels for their custom luxury holidays and travel arrangements. It's our service, our attention to detail, and our access to a variety of luxury facilities that sets us apart. Whether you're a fellow Zarthosti, an Indian, a foreigner or an NRI, we invite you to take the first step of your journey with Farohar Travels. We create opportunities globally as a trusted travel partner providing our guests with innovative travel solutions and delivering unforgettable travel journey and life experiences. Our team at Farohar Travels sets the standards for service quality and delivery across diverse cultures. With Farohar Travels, you can rest assured to enjoy the convenience, benefits and complete peace of mind on our escorted tours, at a leisurely pace.
Holiday Packages You Can't Miss!
In the earlier issues of Parsi Times where we had announced our 'Exotic X'mas Package' in Singapore for Christmas and teasers of our oncoming Holiday Packages to European destinations, I would personally like to thank the members of the community for the great response. As of today, Europe is a hot destination during the summers, starting March to July-August, where we offer trips even to the picture-perfect gorgeous Scandinavian countries and Russia. Our popular European Packages include:
EUROPEAN PANORAMA: Starts from London and ends in Rome. [Duration: 19/20 nights]
MAGNIFICENT EUROPE: Paris/Switzerland/Germany/Belgium and Amsterdam [Duration: 14 nights]
EUROPEAN DELIGHT: Amsterdam/Paris/Switzerland/Austria & Germany-Munich [Duration: 12 nights]
EUROPEAN SPA: Switzerland/Paris/Amsterdam [Duration: 10-11 nights]
BEST OF AUSTRIA: [Duration: 9 nights]
EAST EUROPEAN WONDERS: Austria-Vienna; Salzburg/Hungary-Budapest/Slovakia-Bratislava/Czech Republic-Prague/Croatia-Zagreb [Duration: 14-16 nights].
EXCLUSIVE ITALY/FRANCE & SWITZERLAND: [Duration: 15-18 nights]
SPAIN/PORTUGAL: [Duration: 9-11 nights]
SCANDANAVIA/RUSSIA: [Duration: 15 nights]
THE BEST OF UNITED KINGDOM: London/Scotland/Wales & Ireland [Duration: 14 nights]
We will soon be announcing our European Summer Packages for SCANDINAVIA and RUSSIA in PT.
Those who still wish to spend a magical Christmas in Singapore this December [The Exotic X'mas Package], kindly note that the final dates to shut registrations is November 25, 2018.
For Early Bird Discounts On European Packages & Special Deals On The Exotic X'mas Package, CALL NOW!!! Poras: [+91] 91361 28833                Murad: [+91] 99401 73603 Email: info@farohartravels.com
Latest posts by PT Reporter
(see all)