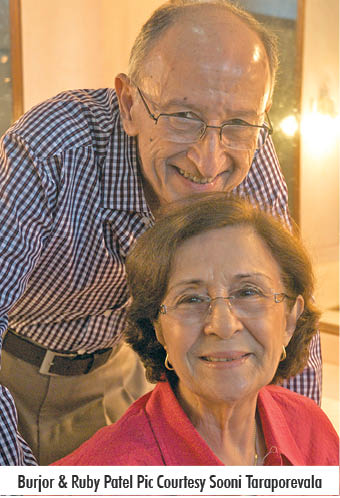 Iconic veteran theatre producer and actor who ruled Parsi, Gujarati and English theatre for decades, and renowned advertising personality, Burjor Patel passed away on 4th January, 2022, due to old age. The much acclaimed, former Khaleej Times Advertising Director was 91.
Perhaps the only attributes which could compare to his awe-inspiring talent and remarkable personality, was the humility and kindness, which were the hallmark of this legend – Burjor Patel. He led a remarkable life, touching millions of hearts, wherever he went. A good soul always leaves a trail of everlasting moments to cherish. Now and forever… his beautiful memories will live on and continue to inspire one and all, through his extraordinary legacy.
Burjor Patel was the husband of legendary theatre actor, late Ruby Patel (who passed away in May, 2020) and father of yet another iconic theatre actor and Bollywood personality – Shernaz Patel, as also his son – Marzban (CEO of Mediascope, a content and media sales organisation based in India.) and daughter – Feeroza. The grand gentleman boasted of an illustrious career spanning over six decades in Gujarati theatre and the Ad-world, having shared his expertise with 'The Statesman' (Kolkata) and 'The Khaleej Times (Dubai). Patel made an impressive impact in the media sector in the UAE during his 20-year tenure in the Khaleej Times, raising its popularity manifold.
During his youth, he was also a passionate sportsman with a strong inclination towards cricket, and wanted to be part of his college team, which boasted of players like the famous brothers Madhav and Arvind Apte as also Subhash Gupte, but destiny had clearly chosen an alternative route to catapult him into his own unparalleled brand of stardom. After completing college, Burjor Patel would often spend time near Churchgate Station in Mumbai, to watch rehearsals performed by award winning theatre personality and recipient of Padma Shree recipient – the late Adi Marzban. Eagerly awaiting his chance to act, he finally was able to land a minute role with only two lines. But even that was enough to jumpstart his glorious career as an actor… and the rest, as they say became history, as he grew from strength to strength to become one of the greatest actors and media personalities of all time!
Patel completed his Law Degree and on being urged by Adi Marzban, he got into the field of Advertising. He worked at Jam-e-Jamshed for 12 years, while simultaneously pursuing his theatre career. Together, Adi Marzban and Burjor Patel transformed modern Gujarati (including Parsi) theatre in India. In fact, it is in the world of theater, where he met his future wife – the incomparable Ruby Patel. They were married in 1959.
Together, the stalwarts – Burjor and Ruby, dominated the English and Parsi theatre scene in Mumbai, for decades. They are crediting for having launched the Parsi Wing of the Indian National Theatre (INT). Burjor and Ruby Patel may well be regarded as the 'First Couple' of English-Gujarati theatre, as they completely mesmerized the community with their performances together in innumerable comedies, thrillers and courtroom dramas, including 'Gher Ghungro Ne Ghotalo', 'Tirangi Tehmul' and 'Hello Inspector'. Along the way, the dynamic thespians also established their own company – 'Burjor Patel Productions', under which they staged numerous English and Gujarati plays.
They later moved to Dubai for a couple of decades, where they contributed greatly to the arts scene, before returning to India in 2009. In 2012, Ruby and Barjor Patel were jointly felicitated with the prestigious 'Lifetime Achievement Award' by the Thespo Theatre Group. Burjor Patel also appeared in a few commercials, like the 'Delights Campaign' of the popular brand Vodafone, post which, many would refer to him fondly as 'the Vodafone man', when spotted in public.
It may be interesting to note, that in the 1980s, Burjor Patel got together with Hosy Vasunia and Bharat Dabholkar to launch the very popular 'Bottoms Up' comedy series across India, under the banner of Burjor Patel Productions. Dabholkar attributed its success entirely to Burjor Patel's brilliant performance and efforts. In fact, as per media reports, before the start of the pandemic, they were also planning to launch its sequel titled 'Bawaji Bottoms Up', but will now be presenting it as a tribute to Burjor Patel.
Burjor Patel was an accomplished performer who unleashed his unique brand of magic on stage, and even made a huge difference in the lives of many, off-stage. His zest for life was infectious and admirable, and he always looked to give back to theatre and the media world, in his expert capacity by nurturing and mentoring several youngsters, who have gone onto become top class achievers.
Speaking to Parsi Times, author of 'Laughter In The House: 20th Century Parsi Theatre', Meher Marfatia shared, "We have lost a titan. Burjor Patel was a consummate producer-actor whose vast experience straddled both, the Gujarati and English stage, with practiced ease. Getting to know Ruby and Burjor Patel as closely as I did in the last twelve years, was a privilege I will always cherish. So much to learn from them, so much to be inspired by… the rigour and discipline of their generation of actors… the passion to keep working on every labour of love. The quiet class with which they accorded equal respect to everyone backstage, from the isatriwala (person who presses clothes) to lead stars. At 91 too, Burjor brimmed with zestful ideas and plans with very young theatre personalities. Salute!"
Renowned theatre personality, Raell Padamsee, Creative Director and CEO of ACE Productions, added, "Burjor Patel was an institution in the theatre world, one of the biggest producers of Gujarati and English theatre in the 1970's and 80's. I had the good fortune of working with him and when I met him recently, he was so warm to me. He said, 'You are doing great work beta, keep it up.' That left me so touched and I hugged both him and Ruby, who was his soul mate."
On behalf of the community and all those who were regaled by and loved and cherished this great legend that was Burjor Patel – Parsi Times stands by the Patel family during this moment of grief. May his soul attain everlasting peace as he lights up the heavens with his eternal sparkle.
Latest posts by Binaisha M. Surti
(see all)