Surrounded by luscious greenery and encircled by two Parsi colonies, Masina Hospital has been the epicenter of care and treatment for a lot of Parsis over the years, young and old, since 1902. It all started when Dr. Masina was given a summer palace owned by the Sasoon family as a gift for effectively curing one of their kin. Today, the four bed start-up has progressively turned into a 280 bed 'multi-care specialty hospital'. Currently undergoing a gradual but certain transformation, Masina Hospital is on its path of revival with adoption of quality standards and green practices, transparency in billing and setting up of new departments under the able guidance of Medical Director, Dr. Vispi Jokhi. Dr. Jokhi aims at providing our community exclusivity in care and health with updated amenities and a revised rate structure, to accommodate Parsis from all economic stratas.  Parsi Times Special Correspondent Delaveen Tarapore  gives you a relook at the 'hospital Next Door':
The Ambience
Masina Hospital is run by a Parsi Trust and is particularly known for the quality of service given to patients not only by doctors and nurses but also by ward boys and lady helpers, who have always been credited for their aptitude and compassion. Famous for its green garden located at the center of the eight acre land, this greenery adds to the peace and healing as viewed from most hospital room windows. "Our green sylvan surroundings aid in healing the stressful situations from which our patients seek succor", states Dr. Vispi Jokhi
.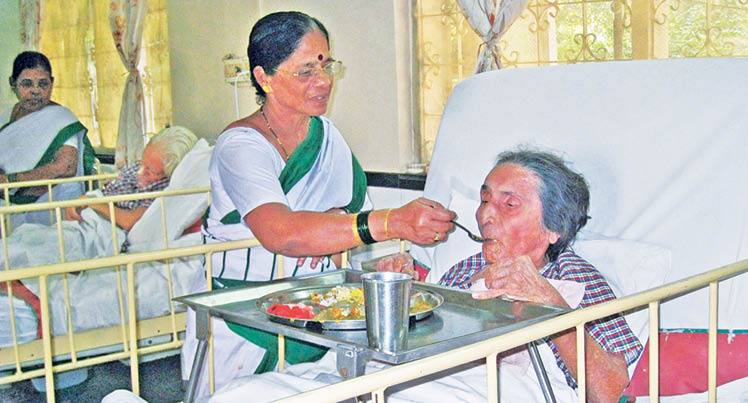 The 'Apru' Effect
Highlighting special amenities exclusively for Parsis, the first two floors of the 'Moose Memorial Building' at Masina is dedicated solely to Parsi patients. The ground and first floor consists of the General Ward for women and men, providing access to health care at extremely affordable rates, along with 24 hour vigilance by medical experts. Another added incentive at the Moose building is the separate section that consists of beds exactly like a general ward but with partitions and curtains that allows privacy at a concessional price.
In keeping with the changing times, Masina hospital is looking at arranging Class II rooms on twin sharing bases, equipped with self-contained bathroom and air-conditioning, like the deluxe rooms. "As Medical Director I'm in the process of adding better quality rooms and improving the services of the hospital. The bed mix and the facility of cashless insurance company tie-ups can help our community members to avail of services without worrying about the cash crunch existing presently", asserts Dr. Jokhi.
.
Undoing Misconceptions
In the past, due to utilization of the General Ward primarily by senior citizens, the 'Moose Memorial building' was wrongly perceived as a Senior Citizen Center, when the wards are actually for usage of Parsi patients from all age groups. "Over the years, the utilization of the ward mainly by the seniors of our community has led to its misinterpretation as an old age home! I strongly discourage the tendency of those who leave behind the aging/old who are not in need of medical treatment. This is a hospital and I wish community members from all age groups avail these facilities provided especially for them," emphasizes Dr. Jokhi
.
State-of-the-Art Health Care

The departmental division of the hospital has been brilliantly laid out keeping in mind the urgency and the degree of medical treatment needed. In addition to the OPD, Burns Department (OPD, Ward, ICU, OT), Medical ICU and OT, Medical Male and Female Ward, Pediatric Ward, Gynecology and Labor Ward, Ortho Ward, Ortho OT, Psychiatry Male and Female Ward, Rehabilitation and Counseling Center, and a 24X7 Pharmacy, the hospital also has excellent diagnostic facilities in collaboration with SRL diagnostics which have been audited among the best in Mumbai city.  In-house CT scan machine and 3D CT facilities along with digital X-rays, USG, Echocardiography services and a on premises blood bank help ease out the burden of diagnostics from the patients and their kin.
.
Consultants and Specialists
Majority of the consultants attached to Masina are Parsis! Cancer Specialist and renowned Oncologist Dr. Boman Dhabar from the N K Dhabar Charitable Trust has established a chemotherapy and counseling center along with his wife Dr. Pouru Dhabar. A team of surgeons offer complex head and neck, breast and colo-rectal cancer surgery at the most affordable rates. The Cancer Hospice which is getting established for palliative care will make oncology a complete department (barring radiotherapy). "Similarly, for arthritis and complex fracture care we have Dr. Sharookh Vatcha and Dr. Jamshed Bunsha, we have Jiyo Parsee associated Dr. Anahita Pundole along with Dr. Kurush Paghdiwalla offering the best in the field of Gynaecology and Obstetrics, as well as Dr. Cyrus Contractor and Dr. Shirin Mulla offering the highest quality of Pediatric care", adds Dr. Jokhi proudly.
The Burns department of Masina boasts of perhaps the highest survival rate of upto 70% burns with specialized care and plastic surgery, headed by Dr. Arvind Vartak and Dr. Suhas Abhyankar, which provides contracture free results and also offers reconstructive microsurgical procedures resulting in complete rehabilitation.
.
Future Promises
Along with all these innumerable refurbishments and initiatives, Masina will have its own 'skin bank'. A 'Diabetic Foot Clinic' and a 'Neuropediatric Department' are currently in their final stages of planning and approval.
Latest posts by Delaveen Tarapore
(see all)