"Elite careers in sport are exciting and fun,

But the Champion's mind believes there's lots to be done.

Carving a niche for themselves, looking to garner success abundant,

Breaking norms, raising standards, they're second to none,

As they constantly endeavour to be crowned as Number One!"
 It is always important to first find something you are passionate about and love doing. What you choose as a profession needs to make 'You' happy. Today, there is great potential that sports offers one and all. PT's Sports Reporter, Binaisha Surti introduces you to Kaivan Fatakia, Sanaya Anklesaria, Shahvir Tarapore and Biaanca Batliwalla who are indeed one of a kind as they decided to chase their dreams in the field of sport and are very successful today.
.
Shahvir Tarapore- Cricket Umpire
Former first class cricketer from Karnataka and veteran umpire, Shahvir Keki Tarapore has had a long and illustrious career spanning 26 years and is only the third Indian umpire after Suresh Shastri and Amiesh Saheba to have officiated in 100 first-class matches. On the international front, he has umpired in 4 Tests, 25 ODIs (four of which were during the 2011 World Cup) and 3 T20s.
 Recalling the golden moments of his career, Shahvir told us, "It been a long journey full of hard work but it has been very enjoyable right from the beginning. As an umpire one needs tremendous patience and passion while standing in the middle." Shahvir further recalled, "My father Keki Tarapore had a big influence on my career. My father also played first class cricket and then began coaching. He would take me along when he would have his coaching assignments."
His biggest moment was when he got a call up for an ICC posting which was a Test match between Pakistan and Sri Lanka in 2011. Sharing an interesting fact he added "I did have butterflies in my stomach. My first decision in the match was an lbw which I got right. That calmed my nerves and gave me the confidence to go forward. One has to live in the present and move onto the next delivery quickly. This aspect is one thing I have always kept in mind."  He has also been fortunate to be a part of history and witness Sachin Tendulkar's historic moment of becoming the first cricketer to get a double ton in an ODI V/s South Africa. "Standing in any match with greats like Sachin, Rahul, Laxman, Ganguly and Kumble is itself a great achievement for me. I was very fortunate to do quite a few matches where India played. To be a part of history is always an honour."
During Shahvir's first ODI match in 1999, New Zealand V/s India there were many records which were shattered. "My debut game as an international umpire on field is very memorable. Then Rahul-Sachin's 300 plus runs partnership, further I was one of the first umpires then to shift a sight screen with the help of a remote control, plenty of great memories to cherish," said Shahvir. Thank you for doing the community proud, Shahvir!
Sanaya Anklesaria- Footballer and Coach
Sanaya is currently a professional player with the Football Leaders Academy. This year the side played the pre-qualifiers of the I-League. She is also currently a coach with JB Petit School, Kenkre U-15 team and has her own setup WIDZ FC.
Being a sporty kid helped her fall in love with football. "When we were all young, a coach was employed into the colony, I was the only girl there and he was more than happy to coach me," said Sanaya. There has been no looking back since for this talented women. When asked which role she prefers between the footballer or the coach, she shares, "At this point in life, it would definitely be the coach in me. The younger generation is fabulous today and much more fitter with age on their side. I have a big advantage having done my D and C license in coaching." According to Sanaya, playing football on a normal ground is way better than on astro-turf. "My proudest moment was when I was made the captain of the Maharashtra team in 2009," she adds. Signing off with advice for newbies taking up the sport, she says, "Parents need to understand that kids should start playing at an early age. One cannot become a professional footballer overnight. Diet, fitness and strength are extremely essential." Come on fellow Parsis! Let's Football!
Kaivan Fatakia – Karate and Self Defense Trainer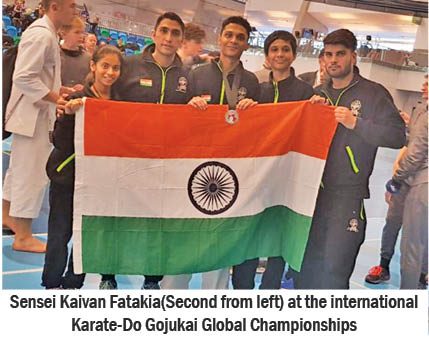 Sensei Kaivan Fatakia trains people in karate and also teaches the art of self-defense. He is a 4th Dan Black Belt in Goju-Ryu Karate-Do and is the Technical Director of the Karate-Do Gojukai India, the official representative of the International Karate-Do Gojukai Association.
He admits choosing karate as a career is the best thing to have happened to him. "Karate is as much about inner strengtsph and confidence, as it is about power and self-discipline. Right through my career I have been proud to train young girls and boys and watch them shine and grow." According to Kaivan, karate gives women the power to feel stronger. If women come under attack, it is this sport that will help them surprise the attacker with sharp reflexes. Kaivan adds, "I am constantly training women from all spheres of life in this art of self defense in short courses as well." Karate has made him a stronger person today on the mental front. "Nothing in my life has given me the kind of strength that does… A couple of years ago I was battling a serious illness in the hospital, but with guidance from my Grand Master Hanshi-Goshi Yamaguchi coupled with the breathing techniques and the right attitude, I mustered the mental strength to beat it and get a fresh start in life." Kaivan further opines "One must try karate to gain mental and physical strength for a disciplined and strong approach in life." Kudos Kaivan!
Biaanca Batliwalla- Athlete
Highly talented young Biaanca has represented and won numerous medals at various athletic meets such as DPCG Meet, All Parsee's Annual Athletic Meet, MSSA, Third Five District Open Track and Field Championships by the Indian Masters Athletics Association, YMCA and is also the current AHWB Champion. She has represented Maharashtra in the State Athletic Meet at Nagpur and entered the Nationals Inter District Junior Athletic meet for High Jump All India.
 "My biggest inspiration and support system in my field is my father Rashid Batliwalla who coaches me along with Dara Doomasia. Seeing my father's medals over the years, I knew I had it in my blood, so I worked hard and now here I am!" Biaanca says. At 13, this prodigy's favourite is Usain Bolt. "I always copy his winning pose after I win." She further added "When I was small, I would always cry when the gun was fired at the start of a race but then got used to it as time passed." This year she decided to challenge herself and instead of the Under-14 category, took part in the Under-16 category at the All Parsees Annual Athletic Meet. "It was a real challenge for me to compete with a higher age category. I decided to give it my best and I was rewarded with the championship trophy and was also the fastest runner of the meet from all the age groups." Biaanca's dream is to represent India someday and be a part of the Asian Games. "Never let success go to your head" is what she firmly believes in. We wish her all the very best in her future endeavours!
Latest posts by Binaisha M. Surti
(see all)