On 22nd June, 2019, Indian Women's Rugby Team – led by Pune-based Vahbiz Bharucha – won the nation's first-ever international Rugby 15s match, finishing third after beating Singapore with a 21-19 score, to secure the Bronze Medal in the Asia Women's – Division 1 Rugby XVs Championship, held at Southern Plains Sports Field, Manila, from June 19 to 22. China won the tournament wit
h a 68-0 victory over hosts Philippines in a one-sided final. Coached by South African rugby legend Naas Botha, what makes this win even more remarkable for the Women's Rugby Team is that it is barely a year old and this would be only the third time that it played an international match!
In Saturday's enthralling match against Singapore, India's scrum-half Sumitra Nayak kicked a penalty to claim the narrow victory in the dying minutes. Sweety Kumari continued her fine form in the tournament, scoring two first-half tries to set India on way to victory. India captain Vahbiz Bharucha then opted for a penalty which was successfully converted by Nayak before Annabel Woo Xui Ni scored her second try of the match to give Singapore the lead for the first time. Singapore hit back with two tries of their own, but a third from India left the scores at 15-12. However, with another penalty, Nayak confidently stepped up to kick her second successful effort of the day, which proved decisive in the win.
Vahbiz Bharucha was quoted by ESPN as having noted the dramatic reversal of India's fortunes in the last 15 minutes – "We'd suddenly flipped a match we were losing by a point to one that we were now winning by two. Emotions were at the surface." The Championship Division 1 will double up as part of the qualification process for the Women's Rugby World Cup 2021 to be held in New Zealand.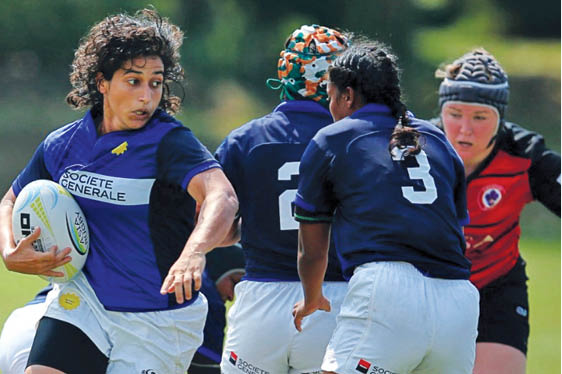 Twenty-five-year-old Vahbiz Bharucha is a physiotherapist by profession and rugby player by vocation. A true sportsperson, Vahbiz loves cycling, running and, thanks to her father's encouragement, has always been actively involved in sports. In addition to being Captain of the Indian Women's Rugby Team, Pune's Vahbiz Bharucha is a qualified and practicing physiotherapist. She has been playing Rugby since 2009. She has participated in fifteen national and thirteen international tournaments including the 16th Asian Games, Guangzhou, 2010 and the 35th National Games, Kerala (2015). She was declared captain of the Indian Women's Rugby 7s Team in 2013 and captain of the first ever Indian Women's Rugby 15s Team in 2018.
The historic win under Vahbiz Bharucha's captaincy has brought immense pride to the nation and the Community, and has garnered congratulations from all quarters including from Odisha Chief Minister – Naveen Patnaik, Mumbai Congress leader – Milind Deora, World Rugby CEO Brett Gosper and Rubgy player and enthusiast, actor Rahul Bose.
Latest posts by PT Reporter
(see all)