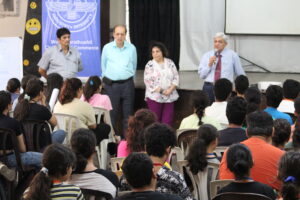 The 36th Valedictory function of the Holiday Programme for Youth (HPY) was held on 29th May, 2023, at Allbless Baug, where a batch of 110 dynamic young adults from Mumbai and across India, were readied to set out and explore the world ahead. The function marked the finale of the annual summer program, which spanned 7th to 28th May, at the Lady Engineer High School, where the community's bright sparks, who had successfully completed their tenth Board exams, were provided with excellent insights, exposure and experiences via a myriad activities, sessions, visits and social service projects and workshops. All of this was planned and executed immaculately, over the course of 21 days, by the diligent organising HPY team, under the astute leadership of mentor Diana Marfatia, the heart and soul of this program.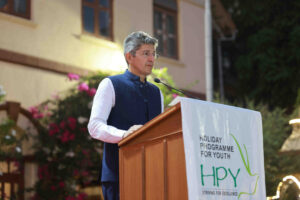 The dignitaries on the dias included Chief Guest – Boman Irani (Rustomjee Builders); Guest of Honour – Merzeen Doctor, BPP trustees and Diana Marfatia. Er. Hormus Dadachanji commenced the function on an auspicious note with a short prayer and a Humbandagi. Charming hostess Deanna Elavia welcomed everyone and shared the proud history of how the very first chapter of HPY was held in 1987 under former BPP Trustee – Late Dr. Mehroo Bengalee and co-ordinator Dr. Ketayun Madon. She shared how Diana Marfatia initiated her journey with HPY, first as a Group Facilitator, and taking the program to new heights as Co-ordinator a couple of years later, to finally settle in as Mentor in 2009. Since then, 'Dee', as she is lovingly called, has constantly endeavoured to improve every aspect of the program, and done so spectacularly.
"When a team outgrows individual performance and learns team confidence, excellence becomes a reality, and may I say that I am truly blessed to head a team that befits this quotation as a proud Mentor… We can all proudly look back and say that we have played a sizeable role in grooming a little over 6700 of our community youth through the past 36 years…. a truly gratifying feeling indeed!" said Diana Marfatia in her welcoming address.
The HPY anthem was sung next, with much gusto by the organisers and the participants. Anaina Dordi, part of HPY 2023 batch, shared how this 3-week experience was positively transformational for her and her batchmates. Not surprising, considering the large number of quality workshops and sessions that the participants got to imbibe from some of the leading industry professionals – Designing with Ashdeen Lilaowala; Leadership and Management skills with XYZ Founder – Hoshaang Gotla; Graphology (Khushroo Master); Block Chain and Investments (Vistasp Kothavala); Zoroastrian Studies (Khojeste Mistree); Parent-Child Workshops (Binaifer Sahukar); Heart Care (Dr. Ashish Contractor); Nuclear Sciences (Jehaan Nicholson); Wonders of the Brain (Dr. Mazda Turel); Marketing (Lara Bulsara); Leadership – Hormuz Ragina; and many, many others. Activities which deserve a special mention include a Blood Donation Drive, held on 21st May, in collaboration with Tata Memorial Hospital, where participants collected 142 bottles for the Hospital's blood bank; as also visits to old age homes and Ahura Support's visit to the HPY venue.
The World Zarathushti Chamber of Commerce (WZCC), Mumbai Chapter also organized a captivating day session with Global WZCC President – Captain Percy Master addressing the significance of youth empowerment and encouraging them to be focused, courageous, and willing to take risks in order to achieve their goals. Behroze Daruwalla, President – India Region & Global Chair of WZCC-WE (Women Entrepreneurs Wing), introduced WZCC's mission, and emphasized the importance of economic well-being, both at an individual and macro level. Rashna Jehani, WZCC's Mumbai Chapter Youth Leader, made an impactful speech. Participants were also made to partake of a Business Simulation activity. The event focused on exploring the theory and practice of entrepreneurship, showcasing it as a means of creating economic growth and positive social change.
 The prize distribution ceremony was the highlight of the evening, with the brilliant talents and achievements of participants being felicitated. In his address, Chief Guest Boman Irani, emphasized on the need to be strong and to try and be prepared in life to face the storms. He also stressed on the importance of being kind towards all and being helpful. He applauded Mentor Diana's longstanding efforts and inputs over the last 36 years and presented her with a bouquet of flowers, getting the audience to give her a well-deserved, standing ovation.
The Guest of Honour, Merzeen Doctor, Founding Principal of Chhatrabhuj Narsee International School and an HPY alumnus herself, spoke on the importance of not giving up on one's passions and to work hard and embrace all of life's challenges, citing the example of how a diamond is birthed only after undergoing great pressure.
BPP Chairman Armaity Tirandaz also shared words of wisdom with participants. Ferangiz Hozdar delivered the vote of thanks, expressing gratitude to all who contributed towards making the function a resounding success – including the BPP staff and trustees, Errick Elavia – Principal of Lady Engineer High School for providing the free venue, Percy Lentin of Allbless Baug, caterer Jimmy Gadiwalla, and others. Next, a fab variety entertainment program was performed by HPY 2023 participants and organisers, followed by dinner concluding the program.
While all the participants did a stellar job and emerged winners in their own right, Kiana Pavri won the Miss HPY title while Yehaan Marker was crowned Mr. HPY, alongside runners up – Daanya Irani, Pearl Singpurwalla and Darayus Daji. Another participant who stood out was Katriena Hakim, winning the first place across six Individual and Team events in titles including Overall Best Sportsman, Table Tennis, Jam, Debate, Baseball and Fashion Show. "It was a wonderful experience that I will cherish all my life," she told Parsi Times – a truth that holds good for all participants!
Here's to the HPY program and to Diana Marfatia and her meticulous Organising Committee, including – Huzan Forbes, Ayesha Mehta, Zaara Dastur, Sanaya Mehta, Zehan Tafti, Deanna Elavia, Shazen Elavia, Ushaine Gandhi, Airyaman Master, Jenai Billimoria, Zavish Velati, Pashaangh Lavangia, Sohrab Mehta, Yohaan Malao and Ferangiz Hozdar – for this brilliant service rendered towards the welfare of the community's youth, year after year, for over three and a half decades!
Latest posts by PT Reporter
(see all)