The Late Maneck Golvala T10 Cricket Tournament, meticulously organized by the Vice President and Cricket Secretary of Parsee Gymkhana (PG), Khodadad Yazdegardi, took place from 19th to 21st April 2019, at the PG grounds, Mumbai. Chief Guest for the opening ceremony, Rusi Bhumgara, was impressed with the good number of Parsi participants, and encouraged the teams to play hard and fair. Eight teams were divided into two – Group 'A' comprising Navsari A, Nagpur (debutants), Surat and Parsi Cyclist; and Group 'B' comprising defending champions Parsee Gymkhana, Navsari 'B', Secunderabad and Malcolm Baug.
First time entrants Nagpur faced Secunderabad in a thrilling finale on 21st April, 2019, graced by PG President, Mehli Golvala, wife Farzana and VP Firoze Katrak. Batting first, Secunderabad scored 101 in 10 overs, courtesy great batting by Khushal Jilla (46) and Jamsheed Hormusjee (38) putting up an opening of 84. Skipper Khoremand Siganporia's expert guidance led the team to the finals. Playing for the first time in the tournament, for Nagpur, reaching the final was a massive boost. Experienced pro, Danush Doongaji, proved a solid anchor scoring a quick 43, before being bowled. Captain Zervin Rana came into the middle. Finally, with just 6 runs needed, Nagpur's Zervin pelted the last ball for a six, winning their maiden title! Kudos to Nagpur's 50-year-old Mehernosh Rana who showcased his prowess; while Shahen Mistry and Shahrukh Patel scored hat-tricks.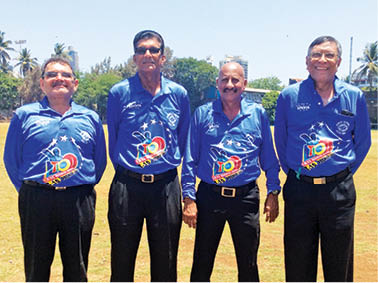 Speaking to PT, skipper Zervin said, "Parsee Gymkhana gave us a great opportunity by inviting us to the tournament. Khodadad provided the best facilities, making us feel at home. Winning in the semis and the Finals is nothing short of a miracle – to become champions in our first go! I believe that the trophy should be shared, as both sides fought till the very last ball and the game could have gone either way."
Former Indian first-class cricketer, Milind Rege was Chief Guest for the post-match presentation ceremony, alongside other dignitaries including PG President Mehli Golvala, Rusi Bhumgara and Captain and Committee member of the Surrey County Cricket Club – Matt Greenwell. Other personalities who attended included Ex-Trustee, VP and Cricket Secretary of PG – Hoshang Dadachanji; President, FOZAWAC – Adi Mehta; Ex-Managing Committee Member of MCA – Nadim Memon; Ex-ICC Panel Umpire – Shahvir Tarapore; Homi Mehta and Dinshaw Patel.
Addressing the audience, Milind Rege expressed his closeness with to the Parsi Community and commended Khodadad Yazdegardi for a successful, grand tournament. He reminisced the greatness of erstwhile Parsi cricketers, sharing anecdotes; and wished the current ones the very best, hoping to see young Parsi crickets rise. Matt Greenwell awarded tokens of appreciation to the match officials – umpires Shahvir Tarapore, Adil Palia, Rohinton Mistry and Aspi Tantra. Rusi Bhumgara honoured Match Referees – Jehangir Umrigar and Vispy Mehta; Physiotherapist – Dr. Sawant; Scorer – Santosh Pednekar and the groundsmen.
"I would like to thank PG President Mehli Golvala, Managing Committee and Cricket Committee members, Vivek Chapekar for the sitting arrangements, Chairman and Managing Director of Spenta Group of Companies Aspan Cooper for sponsoring the event year after year, Ex-ICC panel umpire Shahvir Tarapore who came all the way from Bangalore to officiate, other umpires, match officials, physio, scorer, cricket commentator Binaisha M. Surti, caterer Khorzad Bhesadia and Cherag Irani for looking after the hospitality department and Parsi Times for the coverage. It was great to see Nagpur clinching a win. I will work harder to make the tournament bigger and enjoyable for years to come," said Khodadad.
Latest posts by Binaisha M. Surti
(see all)