– Urging Single Parsis To Avail This Matrimonial Service Dedicated Exclusively To The Community –
.The Parsi Shaadi App, an exclusive matrimonial service dedicated to the Parsi community worldwide was launched by Jiyo Parsi on 6th July 2019, at the Banaji Atash Behram Hall, Charni Road, Mumbai where members of the Parsi community were present showing their full support for another great initiative towards helping Parsis find their right match and marry within the fold. Pamit Anand, Vice President and Business Head at Shaadi.com was present at the launch of the app.
Jiyo Parsi, the Government of India's scheme implemented by Parzor, has expanded in five years from a medical programme assisting couples to a programme dealing with the care of elders and children, with financial assistance as well as counselling to ensure the health of the community. Taking Jiyo Parsi's attempts at Parsi matrimony further, the Parsi Shaadi App has been created by India's leading match-matchmaking services, Shaadi.com, which is also the world's number one matchmaking service for Indians with over six million success stories attached to it. With helping Parsis meet suitable partners as one of JP's main aims, the dedicated App, currently in its Beta phase, will empower singles by allow them to choose independently.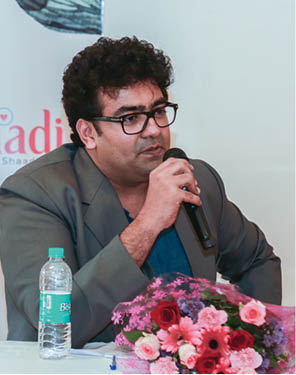 Dr. Shernaz Cama, Director, UNESCO Parzor, welcomed all. The dignitaries who graced the occasion included eminent psychiatrist and Chief Guest – Dr. Pervin Dadachanji; Chairman of the Madison World Group, closely involved with the Jiyo Parsi initiative – Sam Balsara; renowned gynecologist – Dr. Anahita Pandole; Chairman and MD, Della Group – Jimmy Mistry; Vada Dasturji Khurshed Dastoor; young and dynamic editor of Grazia India – Mehernaaz Dhondy; VP and Business Head of Shaadi.com – Pamit Anand; along with BPP Chairman – Yezdi Desai and BPP Trustees – Kersi Randeria, Armaity Tirandaz and Xerxes Dastoor.
The event kicked off with Pearl Mistry inviting young Parsi kids to sing Monajats, followed by Dr. Shernaz Cama addressing the audience. She shared how thirty per cent of the Parsi population remains unmarried today – a universal problem, faced in India and globally. She stated her delight at the launch of the dedicate matrimonial app for Parsis – the Parsi ShaadiApp.
Dr. Pervin Dadachanji, with over 25 years of expertise in her field, spoke on the topic, 'Yes We Can: Marriage Myths and Reality'. She spoke on the concept of marriage, engaging the audience, and shared how communication was the key in a relationship. She also explained how differences in personalities could ruin a marriage. "We need to celebrate differences between two people. That happy couples don't argue is a myth. Arguing is a part of one's interactions, as long as you are not being nasty and trying to bring down the other," she said. "One should never go to bed angry. If your partner is upset with you, allow him/her to calm down and then try and resolve the matter next day. Ultimately – it is not lack of love but a lack of friendship which makes an unhappy marriage," she concluded.
Dr Shernaz Cama thanked Dr. Dadachanji for her speech, as also the Parsi ladies who have been involved in the matchmaking process over the years to help and preserve the community. She praised Pamit Anand for approaching them with the idea of the App, which endeavours to help and benefit single Parsis across the world, negating the challenges posed by time and geographical constraints.
A short film about a Parsi couple, who met through Shaadi.com, was screened. Happily married with an 11-year-old child, they further legitimized that 'the secret of a happy marriage is finding the right person'! Kritika Mudgal, Programme Coordinator, Parzor Foundation, introduced Pamit Anand, VP and Business Head, Shaadi.com, who expressed delight at being part of the match-making journey for Parsis and felt honoured  to launch the App at a community level first for the Parsis.
Next, a discussion titled 'A Wholesome Work Life Balance' was moderated by Dr. Shernaz Cama, including panelists – Sam Balsara, eminent Chairman of the Madison World Group, who has been closely involved with the Jiyo Parsi initiative and prepared all the Ad Campaigns pro-bono through Madison BMB, showed his excellent understanding of the issues facing our community; Dr. Anahita Pandole, Consultant Gynecologist, spearheading the medical component of the scheme; Jimmy Mistry, Chairman and MD Director, Della Group showed how to manage life, family and business successes simultaneously; Dr. Dadachanji added to the issues raised by her in her speech; and Editor of Grazia India, Mehernaaz Dhondy.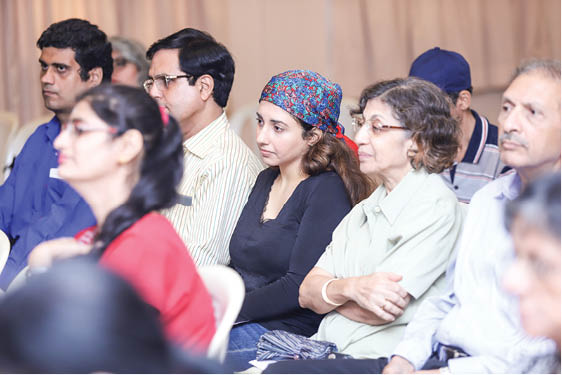 Dr. Anahita Pandole lauded the efforts, growth and success of Jiyo Parsi over the years. She shared how most couples, who approach the Jiyo Parsi team, are more in need of the right guidance and counseling, as opposed to the IVF treatment. Sam Balsara expressed his joy to have partnered this initiative and commended Dr. Shernaz Cama and her team for putting in tremendous hard work. "The Parsi ShaadiApp is very relevant and youngsters of today are digitally savvy. Thus, it will be of good use to the community," he said. Mehernaaz Dhondy shared her thoughts about the importance of maintaining a balance in one's professional and personal life and never losing sight of one's responsibilities. Jimmy Mistry, Chairman and MD, Della Group added that Jiyo Parsi's great work should now be taken to the next level. He expressed the need to conduct more workshops with a greater number of youngsters where they could share their concerns and needs – throwing light on different issues. This data could then be used to create the perfect solutions. Finally, Dr. Pervin Dadachanji shared how today's mothers should not only encourage their daughters, but also bring up their sons in a manner that they share house responsibilities. The Panel then took questions from the audience and the press, followed by the vote of thanks given by Kritika Mudgal. The event concluded with Parsi refreshments enjoyed by all.
Speaking to Parsi Times, Dr. Shernaz Cama said, "I would urge all Parsis to use all the facilities, Apps and their contacts to try and marry within the community itself. We have a beautiful culture which is worth preserving."
---
Photo Courtesy- Jamshed Havewala
Latest posts by Binaisha M. Surti
(see all)