A magnificent preview of the photo-exhibition titled, 'Parsis- A Timeless Legacy', was proudly presented by the bawa-duo – Parvez Damania and Ratan Luth – at the Tao Art Gallery in Mumbai, on 29th November, 2019. The pictures on display at the Exhibition, which was held from 30th November to 4th December, 2019, were absolute master pieces, shot by renowned photographer, Shantanu Das. Parsi Times Reporter, Binaisha M. Surti brings you exclusive insights into magical moments and people celebrating our Parsipanu, as brilliantly captured through the lens of Shantanu Das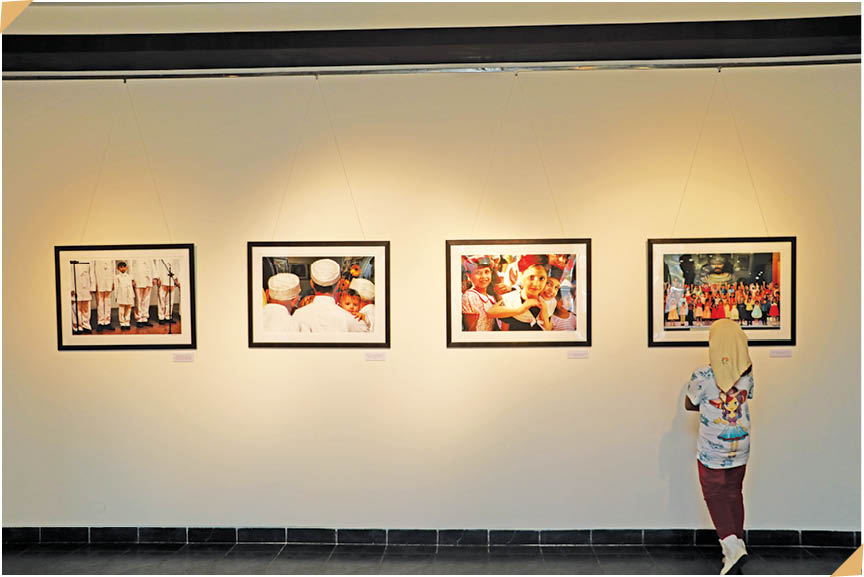 The first thing you notice is the tremendous effort that went into these perfect pictures by camera-maestro, Shantanu Das, who employed the very best of his 20-plus-years expertise and perfected techniques, to document our glorious Parsi culture, traditions and people. Travelling across Mumbai, Kolkata, Udvada, Navsari, Surat, Nargol and Sanjan, Shantanu's popular clicks captured special moments of the Parsi community and various events in a beautiful narrative, with each image sharing a unique story. Shantanu has been honoured with numerous national and international awards, including the Nat Geo travel photographer's award.
Some of the pictures that stood out included a young Parsi boy and girl being inducted into the faith at their Navjote and being taught to wear the Sadreh and Kusti; Bollywood Actor Boman Irani rehearsing his script as Vada Dasturji Khurshed Dastoor looks on; beautiful Parsi women dressed in exquisite 'garas' adding their own glamour quotient to a wedding; young Parsi girls outside the IranShah Atashbehram in Udvada; a Gambhar at the Dadar Parsi Colony Gymkhana…. and lots more.
Speaking to Parsi Times, Shantanu said "I've been shooting these pictures for over six years now and I see Parsis as such a happy-go-lucky, lively and devoted community! They are, at the same time, progressive and traditional! Most of my photographs are candid clicks – you need to wait for the right moment. While photographing the Parsi community, I realized Parsis are one big happy bunch of people and I consider myself very fortunate to be able to work with them."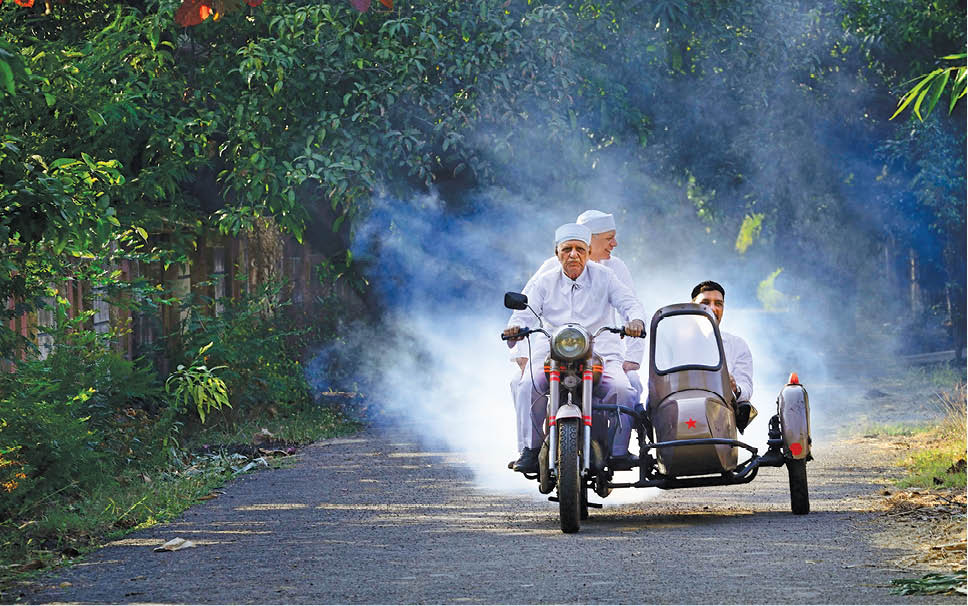 Parvez Damania spoke about how the concept was birthed. "When we first did an exhibition on Udvada, I realised a lot had changed in our town over the years. So, I got Shantanu to shoot Udvada and we got some very interesting photographs, making us want to further profile the Parsi Community. So Shantanu travelled to various places and shot interesting pictures. As I always wanted to hold an exhibition, I spoke to my dear friend, Ratan Luth, and with his support, we put up this exhibition, where we all were interestingly requested to come in our traditional daglis and garas," he said. "On 7th December we will hold the exhibition at Ratan's school in Nashik and then would like to take it to other places too. I am sure that Parsis and non-Parsis will relish seeing the pics."
Ratan Luth told Parsi Times "I feel that by showcasing these pictures, we are sending a message to the country about our beautiful and small community. These pictures share the story of the community's people, fashion, culture, architecture and interiors. Seeing these lovely pictures brings smiles to all. The Parsi community is very famous for its sweetness and the way Shantanu has captured the essence, is wonderful."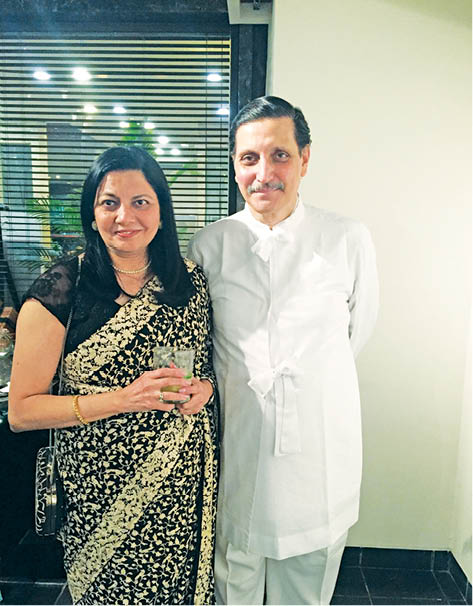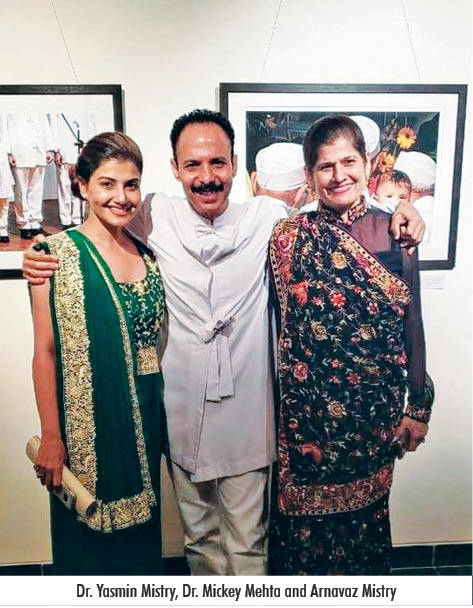 The exhibition was graced by the community's luminaries – including Jimmy and Delna Mistry, Mickey Mehta, BPP Chairman and wife – Yazdi and Anahita Desai, Armaity Tirandaz, Viraf Mehta, Noshir Dadrawala, Adv. Dinyar Madon, Maneck Davar and ZTFI' Arnavaz and Yasmin Mistry – as well as celebrities including veteran actor Jeetendra, Kunal Vijayakar, Raell Padamsee, Bina Aziz, Kailash and Aarti Surendranath, Ananya Goenka, Rashmi Khaitan and Satish Kishanchandani, amongst others. While Roshni Damania and Sharvari Luth played perfect hosts, the guests were seen savouring Parsi delicacies coupled with Sangria and other spirits!
"It is a great initiative, visually portraying our characteristics and natural day to day way of living. It clearly shows that Parsipanu is not only about the dress you wear, or the dhansak that you eat.  Something so special about our community is showcased today – whether it is love for bikes, the way we interact with people, go to the Fire Temple. All these aspects are so beautifully captured," said BPP Trustee, Noshir Dadrawala, on the occasion. BPP Chairman Yazdi Desai said, "Parvez Damania and Ratan Luth have encapsulated the rich heritage of the Zoroastrian Community. This is a wonderful exhibition." "It captures the uniqueness of our community," added Anahita Desai.
Actor, food writer, author and television personality Kunal Vijaykar was also seen enjoying the exhibition, and being closely connected to the Parsi community, he told us "I have seen Shantanu's previous exhibitions on Udvada, and even then I was so impressed, as he has managed to capture not only the beautiful place but also the emotions and various characteristics of Parsis. One can see a little story in every photograph that he has been taken, and my fondness for this community grows even more when I look at all the warmth, the craziness and the exotic culture!"
On the day after the exhibition, on 30th November, a trip was arranged by Parvez Damania especially for the students of Dadar Athornan Madressa, along with the teachers and the principal, Dasturji Ramiyar Karanjia. Iranshah Udvada's Vada Dasturji, Khurshed Dastur, also graced the occasion, along with Mickey Mehta. Gratitude to Jimmy Mistry for being kind enough to arrange snacks for all the children and staff of the Madressa. The kids too had a wonderful time at the exhibition.
Kudos to Parvez Damania, Ratan Luth and Shantanu Das for glorifying the community with his brilliant display of talent via this extraordinary photography exhibition which showcased the delightful world of India's zealous Zoroastrians!
Latest posts by Binaisha M. Surti
(see all)